Thousands of workers employed by private sector companies that worked for construction giant Carillion will have their wages suspended on Wednesday (17 January), the government has said.
On Monday night, ministers held an emergency meeting to discuss how to limit the enormous knock-on effect triggered by Carillion's collapse.
The London-listed firm had crashed into liquidation earlier in the day, after revealing that talks to keep it afloat had failed.
The board said it had "no choice" but to enter compulsory liquidation with immediate effect, in a move which could jeopardise thousands of jobs, while the government is now expected to provide funds to keep Carillion's contracts operating.
Carillion employs approximately 20,000 people in the UK, and Cabinet Office minister David Lidington insisted the government would continue to pay those among them who work in public sector jobs, such as school catering and NHS cleaning.
However, Lidington admitted those who worked for private companies would not be granted the same safety net and will be made redundant by Wednesday.
"The position of private sector employees is that they will not be getting the same protection that we're offering to public sector employees, beyond a 48-hour period of grace," Lidington said. "I think that is a reasonable gesture towards private sector employees."
Accountancy firm PwC, which is overseeing Carillion's liquidation, said: "Unless told otherwise, all employees, agents and sub-contractors are being asked to continue to work as normal and they will be paid for the work they do during the liquidations."
The Wolverhampton-based firm is a key government supplier on the High Speed 2 (HS2) rail project and numerous education and health construction contracts. The group also maintains half of the UK's prisons and is the second largest supplier to Network Rail.
The government has come under intense pressure to explain why it handed Carillion huge contracts, despite the fact the company had issued three profit warnings in the 12 months to November.
What next for Carillion's big contracts?
The first signs of Carillion's collapse emerged immediately on Monday, with workers on the site of Midland Metropolitan hospital – which is being built near Birmingham by the company at a cost of £590m – being locked out and sent home.
Andy Street, the West Midlands mayor and former John Lewis boss, said he had set up a regional task-force to help staff and suppliers, adding a new contractor for the facility would have to be found.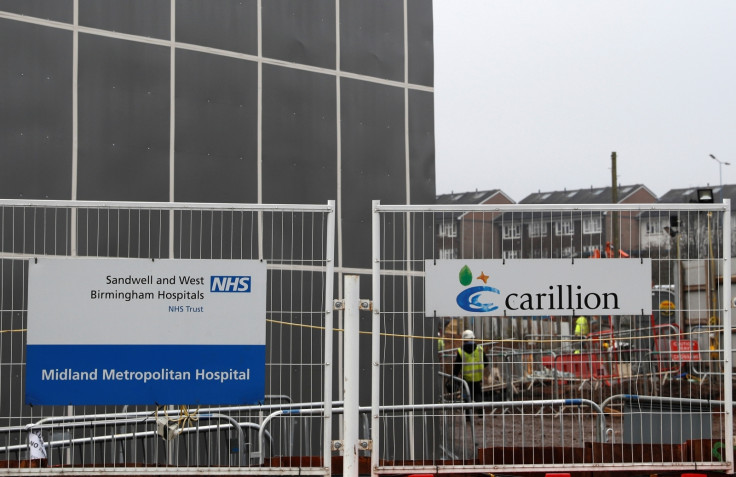 In Liverpool, the city's mayor, Joe Anderson, said "solid contingency plans" were in place to ensure the £490m Royal Liverpool University hospital would not be delayed.
Meanwhile, the Rail, Maritime and Transport (RMT) union said fuel cards issued to Carillion workers stopped working and were being rejected at petrol stations across the country.
The Federation of Small Businesses (FSB) has warned the company's collapse could threaten a number of smaller firms around the country. Carillion has reportedly made its suppliers wait up to four months before paying their bills, meaning a number of small businesses now face a nervous wait to see whether their invoices will be met.
"It is vital that Carillion's small business suppliers are paid what they are owed, or some of those firms could themselves be put in jeopardy, putting even more jobs at risk besides those of Carillion's own employees," said Mike Cherry, the FSB national chairman.
His stance was echoed by Suzannah Nichol, chief executive of trade body Build UK, who warned between 25,000 and 30,000 small businesses could be owed money by the stricken construction giant.
"Looking at previous cases where large contractors have collapsed, you typically see that around 17% or 18% of businesses who are creditors [...] don't make it through the next five years," she said.