Britain's most senior police officer has alluded to a spike in "hate crime" over the summer of 2016 because of the UK's decision to leave the European Union after the 23 June referendum. Commissioner of the Metropolitan Police, Sir Bernard Hogan-Howe, said the majority of those targeted were Eastern Europeans.
According to figures gathered by the mayor's office, there were 2,300 race hate-related incidents in the London in the 38 days following EU Referendum. In the 38 days beforehand, there had been 1,400 incidents. The figures showed that in the 12 months to August 2016, there had been a 16% rise in reported hate crimes.
Speaking at London's City Hall, Hogan-Howe said: "We saw this horrible spike after Brexit. We couldn't say it was absolutely down to Brexit, although there was obviously a spike after it."

Hogan-Howe said it appeared at least some of the hate crime incidents were linked to the EU referendum because alleged assailants referred to the vote.
He added that many of those attacked were of eastern European nationality, with more attacks on Polish people than on all other nationalities put together, reports The Guardian.

The death of Polish national Arkadiusz Jóźwik on 29 August, two days after being attacked in Harlow, has been widely condemned and is being treated by Essex Police as a hate crime.
Two Polish men were attacked in the town hours after a vigil for the dead man in the town on 3 September. Six people are on bail in connection with the killing and two Polish police officers went to patrol in the town with local police in an effort to reassure the local Polish community.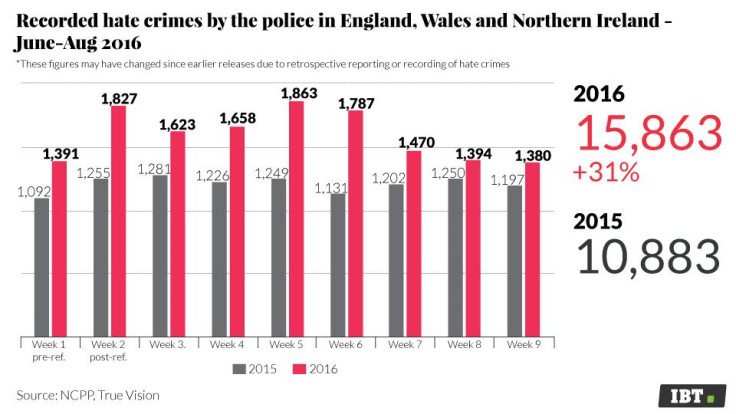 District commander Chief Inspector Alan Ray said the two Polish officers had "been well received by all members of the community. They are helping us engage in particular with members of the Polish community who do not speak English as their first language."
Since the referendum, there have also been attacks on a Polish community centre in London, while anti-Polish flyers were distributed in Huntingdon, Cambridgeshire. Prime Minister Theresa May told her Polish counterpart Beata Szydlo that "hate crime has no place in UK society." The Home Office is putting in place a new Hate Crime Action Plan to tackle the problem.