A surge in hate crime was recorded in England, Wales and Northern Ireland in the wake of the EU referendum vote and although incident numbers have since dipped they still remain higher than at the same time last year.
Police forces were asked to provide weekly data after a spike in incidents following the vote on 23 June.
The National Police Chiefs' Council's figures show a 49% rise in incidents to 1,863 in the last week of July compared with the same time the previous year. The week after, saw a 58% increase in incidents to 1,787.
Meanwhile, between August 5 and 18, forces in England, Wales and Northern Ireland logged 2,778 hate crimes, a fall of 479 on the previous fortnight, but a 14% increase on the equivalent period last year.
The latest data shows that the increase in hate crime has continued but the level of increase has dipped, the Guardian reported.
This week, Polish ministers sought reassurances about the safety of the Polish community in the UK after the fatal attack on Arkadiusz Jóźwik in Harlow, Essex.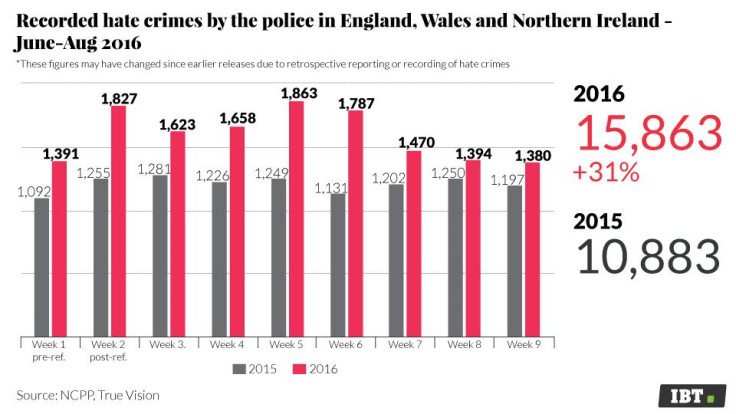 Labour's former shadow police minister Jack Dromey told the Guardian that the tone of the EU referendum was to blame.
"Putting race and immigration centre-stage in the referendum campaign in the way that politicians did resulted in a tide of abuse. Immigration will be a dominant issue in the debate on where Britain goes post-Brexit and so we will need a continued focus on the impact this is having in communities.
"This doesn't mean that hate crime is no longer a priority. We know that divisions still exist in our society and that tensions could rise again. Police forces will continue with their robust response and we will react swiftly to any future signs of tension."
He criticised the decision by police chiefs to no longer tally weekly figures due to a reduction in the level of increase.
NPCC lead for hate crime Assistant Chief Constable Mark Hamilton said: "We have seen continued decreases in reports of hate crimes to forces and these reports have now returned to formerly seen levels for 2016.
"For this reason we will return to our previous reporting procedures and will no longer be requiring weekly updates from forces.