The main negotiator for the UK's exit from the European Union has said that Brexit is "a golden opportunity" to reform the EU but Brussels would "not accept cherry picking" from Britain.
The former Belgian prime minister, Guy Verhofstadt, told the Chatham House think tank the EU should use the Brexit vote to change, especially as the continent faces a triple threat from radicalised political Islam, cyber-attacks from Russia and the rise of far-right political parties.
"If there is a political effect of Brexit, then it is an enormous wake up call for the European leaders to get their act together. I deplore the Brexit decision but, OK it has been made.
"We need to deal with this, so that we need to look for fair negotiations with UK authorities – not in the sense it has to be a punishment or revenge but it has to be a search for new partnership with the EU, more integrated and more united than before," he said.
He added that the new US administration with its sympathy for European populist views was also a big threat to Brussels, saying: "We have a third front undermining the European Union, and it is Donald Trump", pointing out that the EU has "fewer friends than ever in the USA today".
The leader of the Alliance of Liberals and Democrats for Europe group said that the European Parliament needed to be play a role from the start of the negotiations which he envisaged would take "14 or 15 months".
"It will be key that parliament is taken on board from day one, otherwise it will be difficult to get the green light, all agreements need to be approved by parliament.
"We are not going to interfere with what is happening inside the UK. Brexit was the wrong decision but nevertheless we have to deal with it. It will be the British authorities who will say what kind of relationship they want.
"What we are going to do is to make fair negotiations, so we shall not accept cherry picking."
Verhofstadt also outlined his radical plans in his latest book Europe's Last Chance, published by Basic Books and released in January.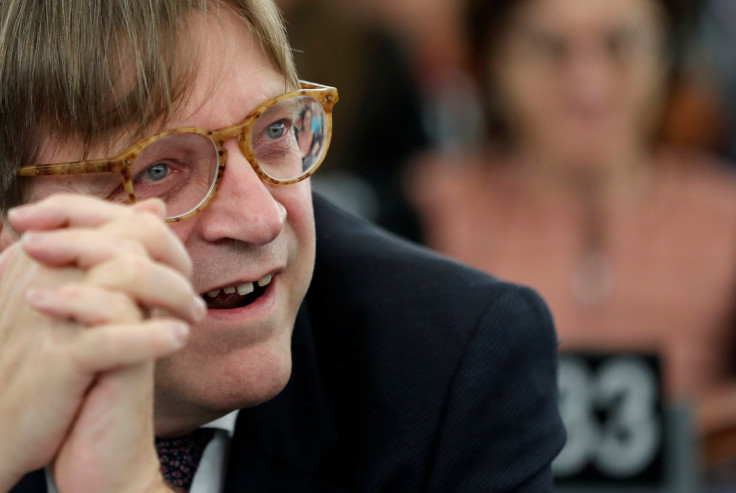 He said that the EU needed reform as it was hampered by being a "loose confederation" which required the agreement of all members to get anything done. He said there needed to be balance between decisions taken at a federal level and preserving the identity of member states.
He compared Brussels' tardiness in dealing with the global financial crisis of 2008 and 2009 with how the United States acted. Within nine months, the US injected hundreds of billions of dollars into the banking sector, instigated a $900bn investment programme, and a quantitative easing programme of $1.2tn.
"Compare that with the EU. What we did, was we had a discussion, and we got a debate that is still ongoing," he said.
"Brexit is a golden opportunity not only to discuss with our British partners, but also to get our act together inside the European Union," Verhofstadt told Chatham House.