The EU can become an "empire of the good" after Donald Trump's shock election to the White House, according to Guy Verhofstadt.
But the EU Parliament's chief Brexit negotiator told IBTimes UK that the bloc must reform if it is to make the organisation's institutions more efficient.
"If [Trump] goes in the direction of more protectionism, we should speed up our trade negotiations with Mexico, Japan and all the other countries that we are negotiating with at the moment," Verhofstadt said.
"The same with defence. Let's create a European defence union, let's take on our responsibilities... Let's become an empire, an empire of the good and not of the bad."
Verhofstadt's radical plans are outlined in his latest book Europe's Last Chance, published by Basic Books and released in January 2017.
The former prime minister of Belgium wants to rebuild the EU.
"Not based on unanimity, but based on what every federation in every corner of the world has," he said.
"That is majority ruling, a government, a treasury, a common defence – that doesn't mean member states will disappear, they will not disappear, but there has to be a balance between the efficiency in which we can take decisions at a federal level and the autonomy and identity of our member states."
The senior MEP and leader of the Alliance of Liberals and Democrats for Europe group warned that the EU is "always acting too little too late" due to its current formation.
"They reality of today is that the EU as union doesn't exist. What exits is a loose confederation of nation states," Verhofstadt argued.
Profile: Guy Verhofstadt
Served as prime minister of Belgium between 1998 and 2008
First elected to the European Parliament in June 2009
Leader of the Alliance of Liberals and Democrats for Europe since July 2009
Appointed chief Brexit negotiator for European Parliament in September 2016
'The two pillars of Nato'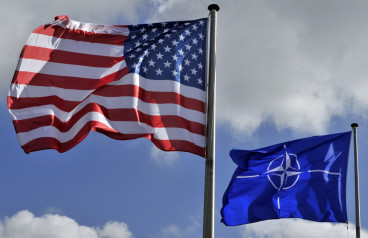 But the UK government has opposed an EU army, warning it could cause a distraction from the North Atlantic Treaty Organisation (Nato), the inter-government military alliance established near the start of the Cold War.
Others also point out that among the EU nations in Nato only the UK and Poland meet their defence spending target of 2% of GDP per year. Verhofstadt, however, wants a European military union to form one of two Nato "pillars".
"You have two options," he said. "That's to increase your budget and I don't think it's possible because every [EU] country has difficulties with its public finances.
"Secondly, you [can make an] effort to create European defence union where you can increase the effectiveness of your defence operations."
Verhofstadt said EU nations replicate their defence operations "28 times", which is why a unified approach is necessary.
"The only way forward is to change from an alliance of countries to an alliance of pillars," he added. "A North American pillar on the one hand, a European pillar on the other."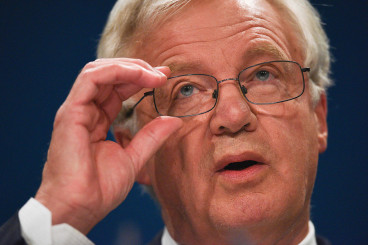 Davis and Verhofstadt bond over cars
As for his negotiations with the UK government over Brexit, Verhofstadt, like the rest of the EU, is waiting for Theresa May to trigger Article 50 of the Lisbon Treaty, the official mechanism to split from Brussels.
The Conservative premier has promised to make the move by March 2017.
Brexit Secretary David Davis, meanwhile, met with Verhofstadt earlier in November.
The MEP reportedly greeted Davis with a quip – "welcome to hell". The comment came after Davis said "get thee behind me Satan" when a group of MPs asked him about Verhofstadt.
But the EU Parliament's chief Brexit negotiator told IBTimes UK that the informal discussions went well and the two top politicians found common ground over classic British cars.
"It's true for a good negotiations you needs tensions, [but] at the same time you also need to respond to each other on a personal level and that was certainly the case," he said.
"The meeting went well and it was the first time getting to know each... We started to talk about old cars. It seems maybe to a lot of people a little bit strange, but I like old cars."
Elsewhere, Verhofstadt hit the headlines in the UK after he told The Times he was supportive of plan for British citizens to retain their EU citizenship after Brexit in exchange for a fee.
Former Justice Secretary and Vote Leave campaigner Michael Gove described the proposal as a "provocation" when he appeared on BBC One's Andrew Marr show on 27 November.
But Verhofstadt refused to engage in a row with the senior Conservative MP, explaining that he is not the author of the plan.
"It's a proposal that has been put on the table by some members of the European Parliament in an exercise we are doing on the future of the European Union...I am sympathetic to that proposal because I think why not," he said.
As for the residency rights of EU nationals in the UK and British citizens on the continent, Verhofstadt said he would not disclose his position until May and her ministers open formal negotiations with EU.
"You have to allow me, I don't start entering into these [hypothetical questions]. We want first of all to see the proposal by the British government, which will be done by the end of March when they trigger Article 50."
He added: "We want [them to] come forward with a serious proposal in the treaty."