Ukip is facing another round of in-fighting after Paul Nuttall failed to win the Stoke-on-Trent Central by-election on Thursday (23 February).
Leave.EU co-founder and Ukip donor Arron Banks, a close ally of Nigel Farage, has urged Nuttall to sack chairman Paul Oakden and install him instead in a bid "professionalise" the party.
"The party is at a crossroads. We have to be radical to become relevant once again," Banks declared in an open letter to Nuttall released on Monday.
The insurance broker has proposed rebranding Ukip, gaining 100,000 members within 18 months and, among other things, creating a "radical" policy agenda.
The bold intervention comes just around three months after Nuttall succeed Farage to become Ukip's new leader, following Diane James' shock resignation and Steven Woolfe's "altercation" with Mike Hookem in the EU Parliament.
Nuttall, the Bootle-born former deputy leader, promised to bring unity to Ukip's ranks and "replace" Labour as the "patriotic voice of working people".
Stoke, where 69% of the electorate backed a Brexit, which Labour's candidate Gareth Snell called a "plie of s**t", provided Nuttall with an opportunity to put his words into action.
But his campaign took a nosedive after he admitted he did not lose "close personal friends" at the 1989 Hillsborough football stadium disaster, contrary to claims on his website.
In fact, Nuttall was only able to increase Ukip's share of the vote by just over 2% to 24.7%, with Snell winning on 37.1% and the Conservatives attracting 24.3% of the vote.
Game over for Ukip?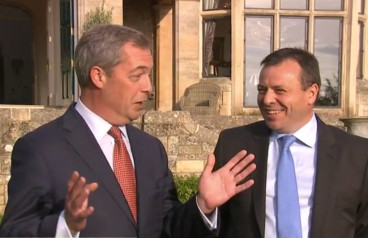 The new Ukip leader has vowed to stay on, but with Theresa May promising to deliver Brexit and Nuttall's defeat in Stoke in mind, aren't Ukip a busted flush?
"We will bounce back from this, people were writing us off in 2015 and we bounced back and broke through in Wales and London," David Kurten, Ukip's education spokesman, told IBTimes UK.
Kurten also insisted the party is united behind Nuttall, who is a "fantastic" leader.
"We took 2% from Labour, we didn't take any votes from the Conservative Party their vote held up in Stoke, we missed something there," he conceded. As for Banks' proposal, Kurten, who also sits on the London Assembly, wants Oakden to stay.
"Arron has been a great support of the party over many, many years and we all hope that he stays on boards – he's got a lot to give in the future. We have Oakden, who's a dynamic chairman," he said.
"He's in the position, he's doing a great job. I think there's a role for Arron, absolutely, but we have a chairman."
Anthony Wells, director of YouGov's political and social opinion polling, told IBTimes UK that Nuttall's campaign was "horrible". However, the top pollster insisted that the party should not be disregarded yet.
"If Ukip can create some sort of narrative of betrayal or her not being a proper Leaver, of May not delivering [Brexit], then they'll have a raison d'être again," he said. "It's too early to write them off yet, there is potential."
Ukip have their eyes on Andy Burnham's seat of Leigh next. The former Labour minister is expected to become mayor of Greater Manchester in May, around two months after the prime minister plans to invoke Article 50 and trigger Brexit talks.
The so called "People's Army" will hope for an early slip-up in those negotiations so they can eat into Burnham's sizeable majority of more than 14,000 votes.