Stoke by-election: Labour retains seat as Ukip leader Paul Nuttall suffers Brexit blow
Gareth Snell has succeeded Tristram Hunt to become the new MP for the Staffordshire seat.
Labour have fought off the Conservatives and Ukip in a Brexit-dominated by-election to retain the Staffordshire seat of Stoke-on-Trent Central, it was announced on Friday morning (24 February). Gareth Snell won the seat with 7,853 votes ahead of Ukip leader Paul Nuttall, who polled 5,233 votes.
The by-election was triggered after Jeremy Corbyn critic Tristram Hunt quit the House of Commons to become the director of London's Victoria and Albert Museum following the EU referendum in June, which saw 68% of Stoke residents vote Leave.
But despite Labour selecting Remain supporting Snell, who infamously described Brexit as a "pile of s**t", the local councillor was able to defeat Ukip's Nuttall.
The Eurosceptic's campaign took a turn for the worse after admitting that he did not lose "close personal friends" at the 1989 Hillsborough football disaster, contrary to claims on his website, which is currently down for "maintenance".
The future for Ukip looks uncertain. The party's raison d'être – splitting from the EU – has almost been achieved and Nuttall's plan to replace Labour as the "patriotic voice of working people" has already hit a roadblock. If Ukip cannot win in anti-EU Stoke, where can it win?
"This is the beginning of the end for Ukip," said Liberal Democrat leader Tim Farron. "They no longer have a purpose. Theresa May has adopted Farage's appraoch to Brexit and her government has become indistinguishable from Ukip."
Stoke-on-Trent Central turnout
2017: 38.1% (21,200 votes)
2015: 49.9% (31,084 votes)
2010: 53.2% (32,470 votes)
2005: 48.4% (27,907 votes)
Source: Stoke Council
Meanwhile, Corbyn, in a close-of-polls message, said Labour "must go further" to break the "failed political consensus". "I want to thank everyone who has been out campaigning for Labour. Today, hundreds have braved Storm Doris, as part of two excellent campaigns, with activists pouring in from across Britain," he said.
"The political establishment has let down Copeland and Stoke, who have seen their industries gutted, living standards stagnate and hope for a better future for their children and grandchildren decline.
"Whatever the results, the Labour Party – and our mass membership – must go further to break the failed political consensus, and win power to rebuild and transform Britain."
But the Stoke victory will likely not silence the left-winger's critics as Labour continues to considerably lag behind the Conservatives in the opinion polls.
Facts and figures
There are 57,701 people on the electoral roll in the Stoke-on-Trent Central constituency.
Turnout for this constituency at the 2015 general election was 51.48%.
The turnout for the EU referendum on 23 June 2016 was 65.7% (electorate 179,010 – city-wide). 69% voted Leave.
Stoke-on-Trent is split across three parliamentary constituencies – Stoke-on-Trent North, represented by Labour MP Ruth Smeeth; Stoke-on-Trent Central; and Stoke-on-Trent South, represented by Labour MP Rob Flello.
The Stoke-on-Trent Central constituency has been represented by Labour since the seat was created in 1950.
For this by-election, more than 140 people are employed in 45 polling stations across 37 venues in the Stoke-on-Trent Central constituency, including primary schools, community centres, seven church halls, two scout headquarters and a fire station.
Around 90 counters will be working during the night, along with senior count supervisors.
The Stoke-on-Trent Central constituency covers all or part of 13 out of the 44 wards in Stoke-on-Trent.
A total of 6,400 post votes have been issued for the constituency.
Source: Stoke-on-Trent Council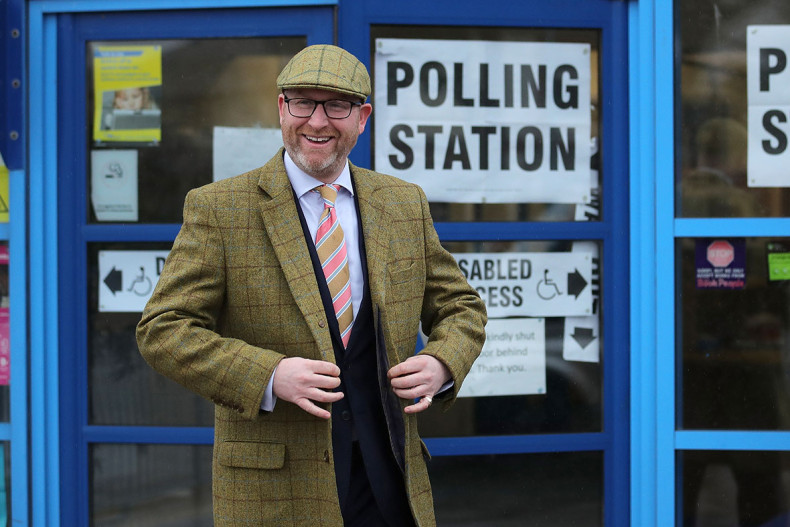 Stoke-on-Trent central candidates
Gareth Snell (Labour)
Paul Nuttall (Ukip)
Jack Brereton (Conservative)
Zulfiqar Ali (Liberal Democrat)
Adam Colclough (Green Party)
David Furness (BNP)
Godfrey Davies (Christian Peoples Alliance)
The Incredible Flying Brick (Monster Raving Loony)
Mohammad Akram (Independent)
Barbara Fielding (Independent)