A police force has won a High Court bid to ban the leaders of far-right party Britain First from entering parts of Luton or any mosque in England and Wales for the next three years.
Activists for the anti-Islam group are also effectively subject to the ban, as leader Paul Golding, 34, and his deputy Jayda Fransen, 30, are even prohibited from directing their campaigners to the town.
Golding told IBTimes UK the order was anti-democratic and accused the police of restricting the group's rights as a registered political party.
The injunction was granted to Bedfordshire Police on Thursday (11 August) after the force argued Britain First activists had caused "community tensions" with their activism in Luton.
This includes its so-called "Christian patrols", the most recent of which, in January, saw about a dozen activists involved in a stand-off with residents in Bury Park, Luton, after they marched down a high street handing out anti-Islam literature while carrying religious crosses.
Assistant Chief Constable Mike Colbourne, of Bedfordshire Police, said applying for an injunction was "not a decision we take lightly" but added: "Luton is an incredibly diverse and vibrant town and we will not tolerate any individual who seeks to cause disharmony or provoke tensions within our communities. I would like to be clear that we would never seek to ban demonstrations or peaceful protest, however we have a duty to protect our communities and will always act in their best interests."
Rev Janet McKenzie, the Church of England Area Dean for Luton, welcomed the injunction, telling IBTimes UK their activism in Luton tried to cause divisions in the community.
"Britain First have been trying to portray a town in a way that isn't recognised by the people who live here," she said. "There are ways of expressing an opinion, and opening a dialogue, that don't cause offence to people."
Golding had originally said his party would fight the injunction, claiming if they lost it could prompt a domino effect that saw other police forces ban them in towns across the country. But a hearing due to take place at the High Court in September was cancelled after Britain First's legal team agreed not to contest the order.
Golding said his group faced incurring "between £50,000 and £100,000" in legal costs should they have lost, potentially bankrupting the party. "If they [Bedfordshire Police] got any of their seven demands then they would have got legal costs," he told IBTimes UK. "We were in a lose-lose situation ... we have managed to wriggle our way out. What can we do if they are using an unlimited amount of taxpayers' money?"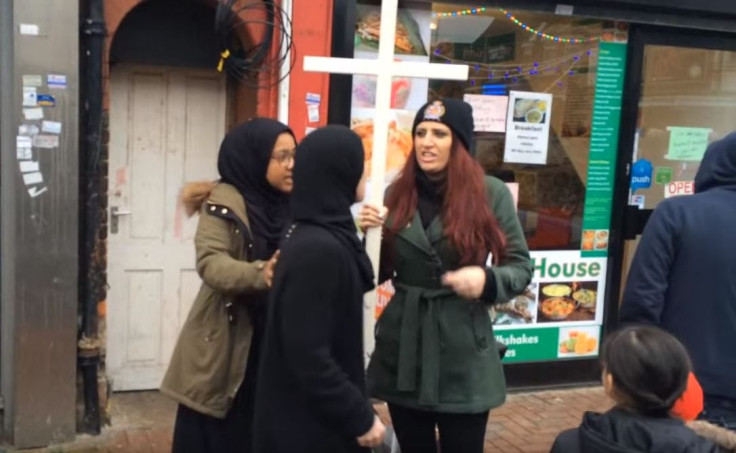 Britain First, a movement set up by former members of the British National Party (BNP), has always insisted it holds peaceful demonstrations and has accused the police of orchestrating a campaign to "restrict our freedoms as a registered political party".
Golding and Fransen can now be arrested should they decide to campaign again in Luton or fail to comply with any of the other terms.
"People who care about democracy should be screaming from the rooftops about this, because a legal political party has been banned from a town centre," Golding said. "When has a British police force been this aggressive? In a way, we are flattered that the state is spending so much time and money to ban us ... they consider us to be worrying."
Bedfordshire Police has struggled to deal with the fallout of the group's controversial protests and street-level action in Luton over the past year.
Community groups, faith leaders and local politicians said the party's activities had cost "hundreds of thousands of pounds" to the local economy and complained they were upsetting residents, a large proportion of whom are Muslim.
The party has been described by its critics as "racist" and a front for "fascists" – allegations denied by Britain First.
Dawood Masood, senior manager of Al-Hira mosque in Luton, and director of anti-extremism organisation the Quba Trust, welcomed the injunction against Britain First, saying the group's activists had tarnished the town's reputation.
"I feel it is a huge success for Bedfordshire Police and especially for the local community, who have had to deal with the bad image that our town gets due to these ignorant people. We have once again made it clear that those who seek to spread hatred are not welcome in our peaceful town.
"The video that was made in Bury Park [of the Christian patrol] gave our town a very bad image globally. They came to provoke local community in order to get a reaction, unfortunately some people fell under their trap. I feel this damaged the town and it deterred people from investing in our peaceful town, which is full of opportunities."