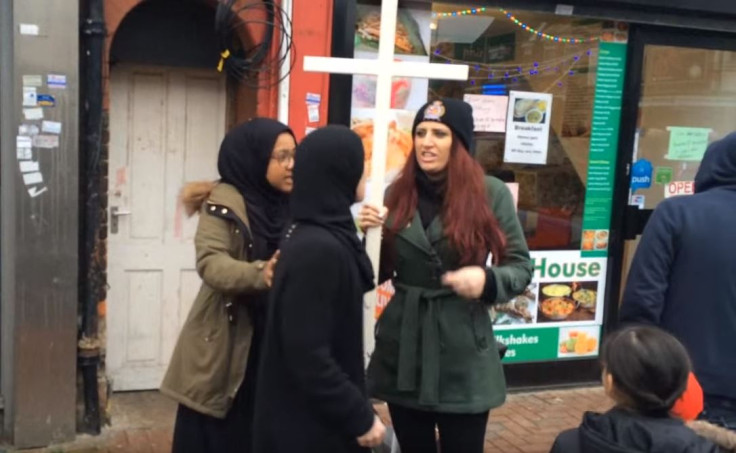 Members of Britain First have been urged to "show respect for the people of Luton" as anger continues to grow over its protests in the town. A joint letter signed by faith leaders, community groups and the town's MP said the anti-Islam group's protests had cost "hundreds of thousands of pounds" to the local economy and complained they were upsetting residents.
Addressed to Britain First, the letter said: "We resent the constant attempts to damage the reputation of our town by portraying it in a negative and indeed, dishonest way. We are hard-working, decent folk who seek to Iive peaceably with one another.
"We reject the efforts of those who seek to divide us along the lines of race or religion. As proud Britons and Lutonians we hold dear the universal values of good manners, courtesy and decency. We urge Britain First to do the same, and show respect for the people of Luton."
The letter was signed by Christian, Muslim and Jewish leaders as well as MP for Luton South, Gavin Shuker. It complained the group had already held three protests in Luton this year and urged them to stop.
Britain First, an anti-immigration political party which wants to ban Islam, has attracted controversy in the past for its "Christian patrols" and what critics say are "provocative" demonstrations in Muslim communities.
The group recently branded Luton a "target" for its supporters after leaders Paul Golding, 34, and Jayda Fransen, 29, were banned by police from entering the town under bail conditions. The pair had been arrested on suspicion of wearing a political uniform after leading a "Christian patrol" through Bury Park, Luton, in January 2016.
The leaders of Britain First told IBTimes UK Luton would remain a "major target zone" for its activists, adding: "Britain First, as a legal political party, will campaign in whatever town it chooses, whenever it chooses and we will not be deterred by the miserable whining of discredited, politically-correct liberal self-publicists who pose as 'Christians'. The remaining British inhabitants of Luton always give Britain First a warm and supportive reception – the only opposition we receive is from the aggressive, intolerant Muslim community.
"It is very telling that these so called 'faith leaders' haven't condemned the violence, harassment, abuse, racism and hostility directed at Britain First from extremist elements within Luton, including the police. It seems they are more interested in clamping down on free speech than addressing the issues of Islamic extremism and terrorism which is the real problem within Luton.
"As much as these so called 'faith leaders' would love to be able to cherry-pick which political and religious groups are allowed into Luton, thankfully they don't have this ability. In the meantime, as long as the oppressive and disproportionate police bail conditions are still imposed on Britain First leaders Paul Golding and Jayda Fransen, Luton will continue to be a major target zone for Britain First activities, including Bury Park, which we will be returning to shortly."
Despite its leaders' strict bail conditions the party's activists were back in Luton on 27 February for yet more campaigning, prompting further clashes with local residents and anti-fascist activists. A video of the day, orchestrated by Golding and Fransen remotely via Skype, saw about 25 Britain First members in a stand-off with opponents who shouted at them to leave and hurled abuse.
It also showed the group being confronted by masked anti-fascist campaigners with one opponent arrested after allegedly attacking them. The clip – shared with Britain First's 1.2m followers on Facebook – ended when the group were moved on by officers and told to leave Luton.
Rehana Faisal, a volunteer for the Luton and Sunni Council of Mosques who helped draft the recent letter condemning Britain First, told IBTimes UK: "The Britain First protests leave people really upset, not only because of what they do when they come but also because of the dishonest way they portray the town. They don't come here to do anything constructive. I hope they will listen to people of Luton."
The party had previously told IBTimes UK it was planning an unprecedented year of events for 2016. January and February have already seen other protests in Dewsbury and Bradford, where the group's cars were vandalised. It has also staged demonstrations outside mosques, including recently in east London.
The letter in full

To Britain First,

Members of your organisation decided to come and demonstrate in our town again this weekend. This is the third time in less than a year.

A large representative group of Lutonians expressed their views to you in a statement last year when we heard of your intention to march in our town in the summer. We highlighted to you the implications of such demonstrations on Luton. We are incredibly disappointed that 'Britain First' have continued to disregard the views of the people of this town.

To be clear, over the last few months, 'Britain First' demonstrations in Luton have cost us hundreds of thousands of pounds. This is completely unacceptable, particularly in these times of austerity where we have seen significant cutbacks to local services; including the loss of some of the town's
libraries. Local businesses, big and small, have had to endure a loss in earnings as a direct result of your actions.

The damage you do however goes beyond the financial. Luton is a super-diverse, vibrant and cohesive town with much to offer. We resent the constant attempts to damage the reputation of our town by portraying it in a negative and indeed, dishonest way. We are hardworking, decent folk who seek to Iive peaceably with one another. We reject the efforts of those who seek to divide us along the lines of race or religion.

This is not to say that we are shutting down debate. However, we reiterate the importance of respectful language to express concerns and grievances.

As proud Britons and Lutonians we hold dear the universal values of good manners, courtesy and decency. We urge 'Britain First' to do the same, and show respect for the people of Luton.

Signed:
Luton Council of Faiths
Churches Together In Luton
The Sunni Council of Mosques
The Luton Council of Mosques
Bedfordshire Progressive Jewish Community
Discover Islam, Luton
Grassroots
Gavin Shuker MP (Luton South)
The Mall, Luton
Luton Bury Park Business Community
Luton in Harmony
Inspire FM
The Rt Revd Richard Atkinson, Bishop of Bedford
The Rev Bonnie Evans-Hill (Interfaith Adviser, Diocese of St Albans)
Revd David Kesterton (Parish of All Saints with St Peters-Bury Park, Luton)
Revd Andrew Goodman (University of Bedfordshire Chaplaincy)
Rev Janet MacKenzie (Area Dean, Luton)