Police ask High Court to ban Britain First leaders from Luton and all mosques in England and Wales
Paul Golding says an injunction could lead to his group being excluded from other town centres.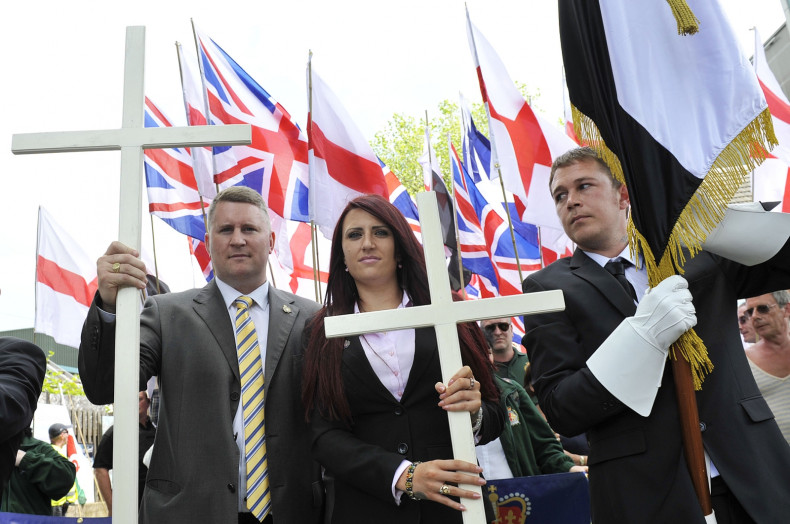 A police chief is seeking a High Court injunction against the leaders of anti-Islam group Britain First, banning them from entering parts of Luton or visiting any mosque in England or Wales for the next three years.
The head of Bedfordshire Police, chief constable Jon Boutcher, has sought to curb the activities of the political party's leader Paul Golding, 34, and deputy leader Jayda Fransen, 30, following what he claimed was "harassment" of local communities in Luton.
Britain First claimed the measures, if granted, could lead to other police forces seeking similar bans, effectively preventing them campaigning in town centres across the country. Golding said: "If we do not win, we are finished."
Bedfordshire Police has struggled to deal with the fallout of the group's controversial protests and street-level action in the town over the past year.
Community groups, faith leaders and local politicians said the party's activities – including its so-called Christian patrols and mosque invasions – had cost "hundreds of thousands of pounds" to the local economy and complained they were upsetting residents, a large proportion of whom are Muslim.
The High Court application, served to Britain First on Friday (15 July 2016), said Bedfordshire Police was seeking the injunction "to protect local communities in Luton that have been targeted by the Respondents [Golding and Fransen] and subjected to harassment, alarm and distress."
Britain First, a movement set up by former members of the British National Party, has always insisted it holds peaceful demonstrations and has accused the police of orchestrating a campaign to "restrict our freedoms as a registered political party".
The application will be heard at the Royal Courts of Justice in London next month.
It will ask that Golding and Fransen be banned for three years from "entering any mosque or Islamic cultural centre or its private grounds within England and Wales without prior written invitation".
It also seeks to ban the pair for the same time period from entering, or encouraging its activists to enter, Luton's Bury Park without police permission, and that they give at least two weeks written warning should they wish to enter Luton town centre. They will not be allowed to enter Luton more than once every two months should any consent be given.
If the injunction is successful, Golding and Fransen can be arrested should they fail to comply with the terms.
"What we are dealing with here is a direct challenge to our right to exist as a political party," Golding said. "If Luton Police can achieve such an injuction against a legally registered political party, then what's to stop every other town in the country applying similar injunctions.
"We could end up being bled dry with endless court appearances and injunctions that simply make it impossible for Britain First to continue operating."
Police attempts
It is just the latest in a long-line of attempts by Bedfordshire Police to restrict the group's activities after pressure from local faith leaders and politicians, who have accused the party's activists of targeting Muslim communities.
In June 2015, an interim injunction was granted to the force by a High Court judge in which Golding and Fransen were similarly banned from entering any mosque for a year. The terms, which expired last month, did not include banning them from Luton, however, which was thrown out by the High Court judge to be decided at a later date.
Golding and Fransen are also already currently banned from entering Luton under temporary bail conditions after the pair were arrested following an anti-Islam march through Bury Park in January.
It saw them lead about a dozen other Britain First activists down a high street while carrying Christian crosses and handing out anti-Islam literature. It ended in a volatile stand-off with local residents, who shouted at them to leave before police arrived to escort them out of the area.
Golding and Fransen were later arrested on suspicion of wearing a political uniform, but have still not been charged.

Chief Superintendent David Boyle, of Bedfordshire Police, said: "The injunction is being sought due to concerns that their presence in these areas could increase the possibility of disorder and anti-social behaviour.
"I would like to be clear that it is not our intention to ban any demonstration and we will always facilitate peaceful protest where possible."