Photographs reportedly showing BBC Olympics presenter Helen Skelton sunbathing topless whilst on holiday aged 17 have been published in a Sunday newspaper and circulated online. It comes in the wake of widespread media focus on Skelton's clothes and appearance instead of her presenting skills during her stint in Rio.
Dehumanising and objectifying articles have repeatedly reduced Skelton to her individual body parts, with zoomed-in pictures for viewers to ogle.
One headline described her as: "The face (and thighs and cleavage) of BBC's Olympic coverage."
Both traditional and social media went into meltdown after Skelton presented a segment from the hot and humid aquatics centre whilst seated and wearing a short outfit, with no attention paid to the fact that her male co-presenter was also wearing shorts.
In the days that followed, rather than returning the focus to Skelton's job, the press started digging for previous examples of "wardrobe malfunctions", with entire articles documenting previous incidents when she "has exposed more of herself than viewers would like". (Complete, of course, with video of Skelton's skirt being blown up by the wind in 2012, just to make sure readers had the full picture).
While it may be natural for the press to want to draw attention to Skelton's past achievements as she takes on a more prominent role, let's not forget that this is a woman who has completed a 78-mile ultra-marathon, kayaked the Amazon, walked a tightrope over Battersea Power Station and cycled (yes, cycled) to the South Pole. It's not exactly as if there's a shortage of interesting career highlights to cover. But please, show us the up-skirt video again.
The publication of the topless photographs, taken years before Skelton was in any way a public figure, and while she was just 17-years-old, is a gross and disturbing invasion of privacy. There can be no argument that digging up private and intimate photographs of a 17-year-old girl is in any way "newsworthy" or in the public interest. It is exploitative and inhumane, and can only be explained by the fact that our society, in 2016, continues to view women's bodies as public property and their breasts as fodder for male enjoyment and entertainment.
Not to mention the disturbing and irresponsible decision to circulate photographs reportedly showing the breasts of a girl under the age of 18 without the subject's consent as our society deals with ongoing revelations about the massive scale of child sexual abuse.
It is exploitative and inhumane, and can only be explained by the fact that our society, in 2016, continues to view women's bodies as public property and their breasts as fodder for male enjoyment and entertainment.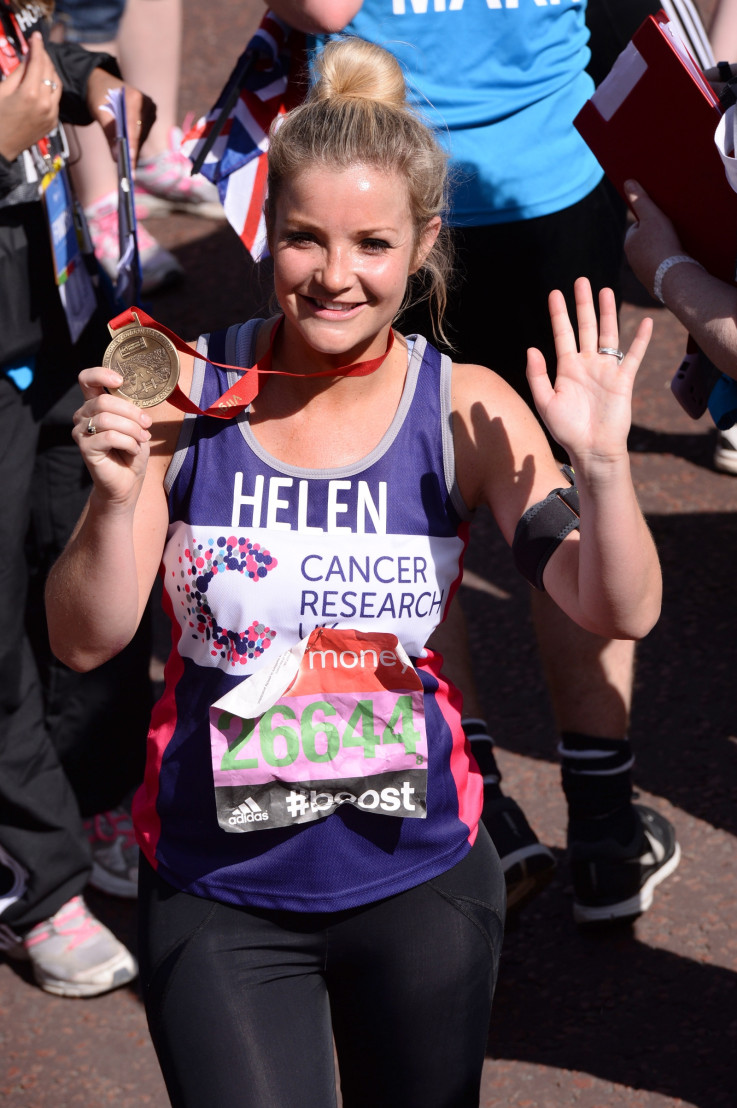 Helen Skelton completes the 2014 London Marathon
Getty Images
Skelton's treatment over the past weeks has reinforced the idea that a woman in the pubic eye, no matter her skill or professionalism, is considered fair game to be hounded and treated as a piece of meat. To be displayed from every possible angle, no matter how invasive, for the viewing pleasure of the general public.
The case also lays bare the enormous hypocrisy and double standards in the media on treatment of high-profile women and men. The very same outlets that have plastered hundreds of close-ups of Skelton's thighs in her shorts across the internet are the first to take a scolding moral tone about the inappropriate nature of her dress.
The Sun, which ran no less than two articles and seven photographs about Skelton's "skimpy" attire, made a point of commenting on subsequent outfits with headlines like "Helen Skelton finally covers up". The Daily Mail, which provided a handy photo guide to which body parts Skelton was "flashing" on each day, from "legs" to "cleavage", with countless photographs, nonetheless fretted that: "Her short dress caused concern for some who immediately took to Twitter to wonder whether the pretty blonde had 'forgotten to put on her trousers'."
Meanwhile, as Skelton faces criticism and disapproval, another BBC sports presenter, Gary Lineker, has been met with widespread acclaim and encouragement for fulfilling a bet to present Match of the Day in his underwear after Leicester won the Premier League.
While Skelton saw viewers and media go into a meltdown because they "caught a glimpse of her underwear", Lineker's appearance sparked complaints that he wasn't revealing enough.
In the end it was Skelton's own dad who summed it up best in a television interview, when he said: "I thought we'd moved on from this now. She's just out there presenting and trying to do the best job... She has worked very hard. She's following in the footsteps of some very good presenters. She's just trying to talk about the Olympians. It's a bit sad – it's more important what women do. Why do we always have to comment on women's clothes?"
He couldn't have put it better. But how incredibly depressing that he was invited onto morning TV to discuss the length of his talented daughter's skirt in the first place.
---
Laura Bates is the founder of the Everyday Sexism Project and author of Girl Up
---