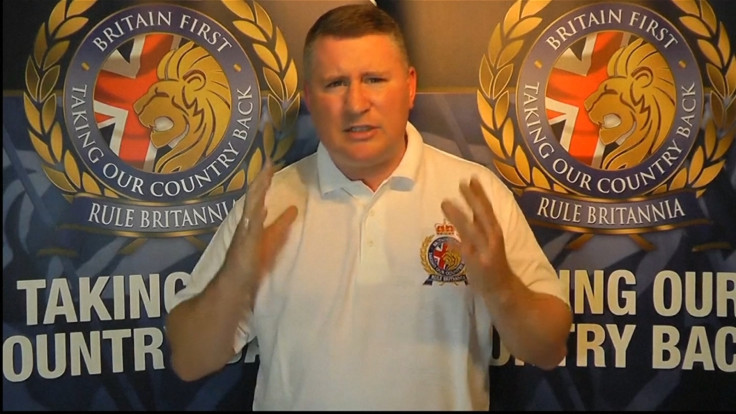 Hundreds of protesters are expected to demonstrate against right-wing group Britain First as it prepares to hold its first rally of the summer.
The anti-Islam group said it was forced to cancel its "Britannia Fest" summer festival scheduled for the end of July, telling members the landowner of the intended venue was "terrorised by left-wing bullies and the police".
The event was intended to provide a "family-friendly" environment with camping, face painting for children and right-wing speeches from activists.
Britain First said on Sunday (19 June) it will instead hold a public gathering at an as-yet unannounced venue in Coventry on 30 July, with speeches to be given by leader Paul Golding, deputy leader Jayda Fransen and elections officer Lee Cooper.
Just over 380 people have so far claimed they will attend, although previous Britain First events have attracted fewer in number.
A protest group, called Coventry Against Britain First, was set up within hours of the announcement to co-ordinate a demonstration against the planned meeting. Its Facebook page has so far attracted more than 300 members.
"The purpose of this group is to mobilise support for the counter demonstration," Coventry resident and the group's creator, Sam Clarke, said. "We want to show this fascist organisation that Coventry is a city of happiness, hope and above all acceptance."
He added: "I, personally have had enough of the growth of this vile, hate-filled mob and should they visit this great city, I plan to be at the front of the counter-demonstration."
Britain First, a Christian political party founded by anti-abortionist campaigner Jim Dowson and now led by ex-British National Party activist Paul Golding, calls for Islam to be banned in the UK and for all immigration to be halted (except in "special cases").
Anti-extremism campaigners have in the past accused the group of stoking up anti-immigration sentiment and spreading hatred. Britain First's activists insist they are a peaceful political party, which simply challenges current policies on immigration and Islam.
West Midlands Police said it was aware of the planned Britain First meeting and counter demonstration in Coventry.
Britain First has been contacted by IBTimes UK for a comment.