The father of the assistant to Labour's Jo Cox has described how his daughter cradled the MP as she lay dying in the street outside her constituency surgery in Birstall, West Yorkshire.
Ghulam Maniyar, whose daughter Fazila Aswat was with Cox when she was stabbed and shot after holding a surgery in the town, said it would take time for her to fully recover from the shock of seeing the 41-year-old mother of two attacked and bleeding heavily on the floor.
Speaking to ITV News, Maniyar said that Aswat risked her own life by attempting to strike the suspect with her handbag before he returned to again shoot the wounded Cox.
He also said his daughter revealed what is believed to be the final words of the MP as she lay in the arms of Aswat. Maniya said: "She [Cox] was with my daughter. They'd left the Batley office, they were in the marketplace. She was in my daughter's car sitting in the back seat.
"The car stopped and Jo decided to come out. My daughter didn't know she'd been shot. Because this person must be waiting outside where the surgery happens. She said [Cox's] injury was so bad and she was in her arms.
"There was lots of blood. She said 'Jo, get up' but [Cox] said 'No, my pain is too much, Fazila'. And I think those were the last words Jo spoke."
Manita added: "She could not do anything else. She tried to comfort her. Then the police came, the air ambulance came, they took her to hospital. She was a witness and her clothes were full of blood. My daughter... she is in shock because she's been with her [Jo] for one year and working very closely with her. It will take time to fully recover from the shock. She's lost one of her best people."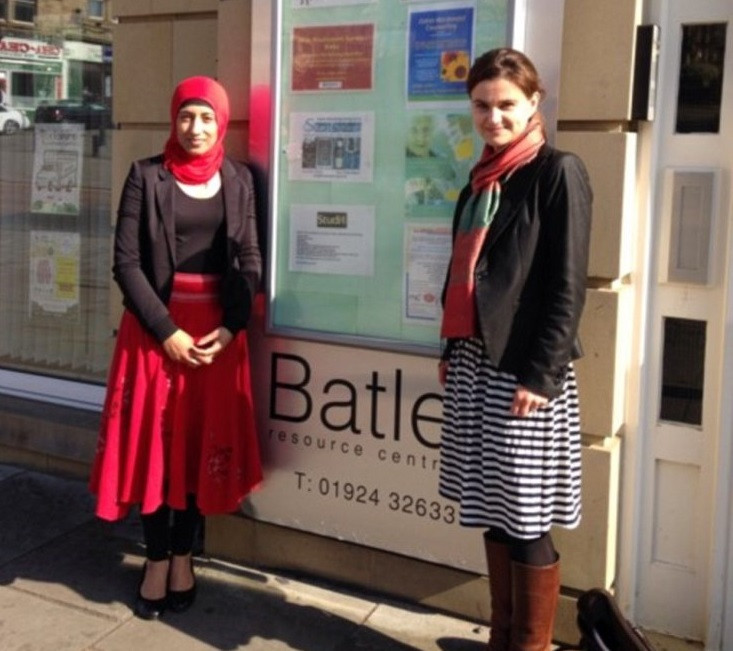 Tributes have continued to pour in for the Labour MP following her death on Thursday (17 June 2016), with David Cameron, Jeremy Corbyn and Speaker of the House of Commons John Bercow travelling to Birstall to pay their respects to the 41-year-old. The prime minister said the world is "rightly shocked" at the killing of an MP who wanted to "make the world a better place".
Speaking at Birstall's Dr Joseph Priestley Memorial, where people had laid flowers and messages of support, Cameron added: "Where we see hatred, where we find division, where we see intolerance, we must drive it out of our politics and out of our public life and out of our communities.
"If we truly want to honour Jo, then what we should do is recognise that her values – service, community, tolerance – the values she lived by and worked by, those are the values that we need to redouble in our national life in the months and years to come."
Corbyn added that Cox was "an exceptional, wonderful, very talented woman". He added: "It's a tragedy beyond tragedy what has happened yesterday. In her memory, we will not allow those people that spread hatred a poison to divide our society, we will strengthen our democracy and free speech."
Corbyn also confirmed that Parliament would be recalled on from its recess on Monday (20 June) so that more MPs can pay tribute to Cox. The Conservatives and the Liberal Democrats confirmed they would not be contesting the upcoming by-election in Cox's Batley and Spen as a mark of respect for a "much-loved and respected politician".
West Yorkshire Police have arrested a 52-year-old man in connection with the murder, believed to be local Tommy Mair, and are not looking for anyone else in connection with the incident. He remains in police custody for questioning.