Britain First: Luton declared 'target town' for anti-Islam activists: Has police action backfired?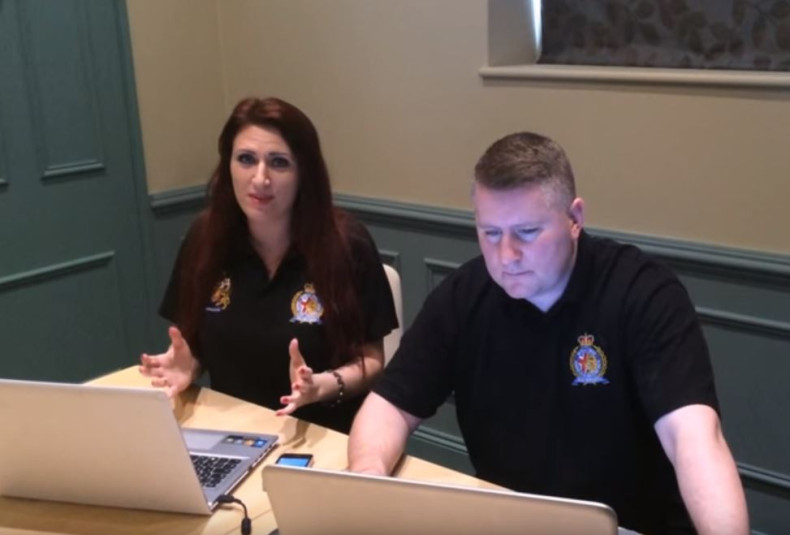 Police action banning the leaders of Britain First from entering Luton could backfire after the political party declared it is now a "target town" for its activists. Deputy leader Jayda Fransen told IBTimes UK her anti-Islam group would be holding regular events in Luton in response what she said was an unfair and "spiteful" vendetta by Bedfordshire police.
It comes after Fransen, 29, and Britain First leader Paul Golding, 34, were banned from entering Luton and required to attend a police station every Saturday as part of strict bail conditions. The pair had been arrested on suspicion of wearing political uniforms after leading a controversial "Christian patrol" through the town in January 2016.
Fransen told IBTimes UK: "The police need to see that their ridiculous bail conditions barring Paul and I from Luton will backfire, as Britain First will be there even more. We are going to be very busy in Luton now, holding regular activities.
"The police are only targeting us because they failed to get their injunction banning the group from the town last year. Their spitefulness is really evident by requiring us to attend a police station every Saturday, which is when we are often out campaigning."
Leader Golding added: "Because of their [police] actions, Luton is going to be a target town for Britain First. We are going to be there on a regular basis now."
Bedfordshire Police has been under pressure from local community leaders and anti-extremist campaigners in recent months to do more to curb the activities of Britain First. The party has been described by its critics as "far-right", "racist" and a front for "fascists" – all terms denied by Britain First.
Despite its leaders' strict bail conditions the party's activists were back in Luton on Saturday (27 February) for yet more campaigning, prompting further clashes with local residents and anti-fascist activists.
A video of the day, orchestrated by Golding and Fransen remotely via Skype, saw about 25 Britain First members in a stand-off with opponents who shouted at them to leave and hurled abuse. It also showed the group being confronted by masked anti-fascist campaigners with one opponent arrested after allegedly attacking them.
The clip – shared with Britain First's 1.2m followers on Facebook – ended when the group were moved on by officers and told to leave Luton.
'We've been stitched up'
The latest incidents come after the party had told IBTimes UK it was planning an unprecedented year of events for 2016. Many of its anti-Islam demonstrations take place in towns or cities with significant Muslim populations, leading to accusations its activities are deliberately provocative.
January and February 2016 have already seen other protests in Dewsbury and Bradford, where the group's cars were vandalised. The right-wing Christian party, which brands Islam "fascist" and calls for the religion to be banned, has also staged demonstrations outside mosques.
The promise of further street-level action in Luton raises questions over how police will deal with the political party in the future. Anti-Islamophobia charity Tell Mama has already called on the government to curb the group's activities, saying events like those in Luton were dividing communities.
Community leaders in Luton have also spoken out against the group, with Cllr Hazel Simmons, leader of Luton Council, saying: "Britain First, or anyone promoting hatred for that matter, is not welcome in Luton. Whenever such groups try to make their presence felt in Luton, I am proud to see our communities rise above this hatred and show how resilient they are by not responding to unnecessary provocation."
Fransen and Golding have yet to be charged with any offence following their arrest, which they argue lends credence to their claim they've been targeted by police purely for political reasons. They are currently applying to the High Court to have the bail conditions thrown out after a previous hearing at Medway Magistrates' Court earlier in February saw their appeal fail.
Fransen said: "We have received legal advice from a lot of people in the legal profession and the general consensus is that we've been stitched up. So we are putting in an application which will go to the High Court."
A spokesman for Bedfordshire Police said of the recent demonstration: "Bedfordshire Police became aware of Britain First travelling towards Luton shortly before 11am on Saturday. The group then held a small demonstration in the town, which was monitored by officers, before leaving at around 3pm.
"A 28-year-old man from London was arrested and has been charged with a public order offence. He has been bailed to appear at Luton Magistrates' Court on 14 March."