Britain First: Leaders Paul Golding and Jayda Fransen arrested for 'wearing political uniforms'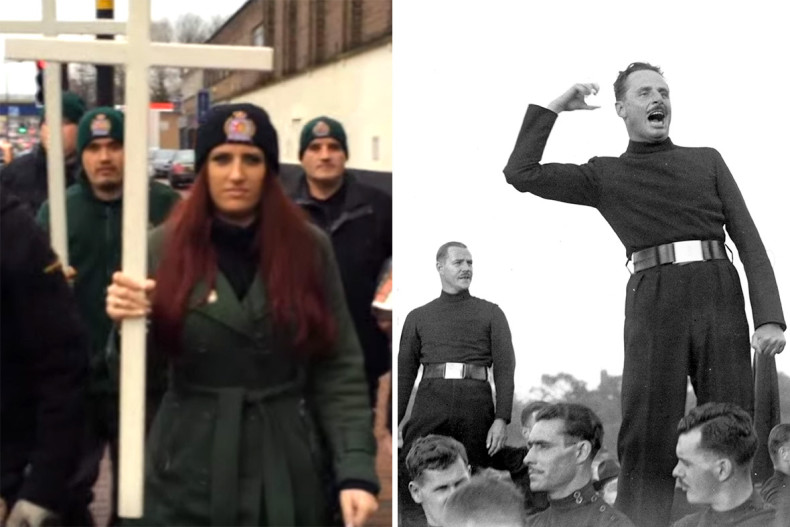 The leaders of right-wing Christian group Britain First have been arrested under laws dating back to the 1930s which ban the wearing of "political uniforms". Paul Golding, 34, and Jayda Fransen, 29, were questioned by police after the pair led a "Christian patrol" through Luton on 23 January.
They were detained on Monday (15 February) under the Public Order Act 1936, which was originally passed to control far-right political movements like Oswald Mosley's British Union of Fascists (also known as the Blackshirts). It was also used against IRA and Sinn Fein demonstrations in the 1970s, even fining them from wearing berets in Hyde Park's Speaker's Corner.
Golding and Fransen have been released on bail until May 30. They are both banned from entering Luton and have been ordered to present themselves at a police station every Saturday. Fransen, who also had her Britain First lapel badge confiscated by detectives, claimed they were being harassed by the police and vowed to challenge the bail conditions in the courts.
She told IBTimes UK: "It begs the question as to whether Bedfordshire police will be taking similar action against Labour party activists wearing 'Vote Labour' T-shirts or those wearing a Conservative party rosette."
The unannounced "patrol" in Bury Park, Luton, saw about a dozen Britain First activists carry religious crosses through an area with a significant Muslim community while handing out anti-Islam literature. A video showed the group wearing green Britain First jumpers and hats at the time.
The march led to a stand-off between the Britain First activists and angry local residents, during which Golding and Fransen claimed their group have been "attacked" and pelted with eggs. The group eventually left the area under a police escort.
Anti-Islamophobia group Tell Mama likened the action to "divisive" Muslim patrols that made the headlines in 2013 and accused Britain First of continuing to "stir up unrest" in communities. It has since called for the government to do more to prevent the group from organising further street-level action.
An IBTimes UK interview saw Fransen warn "civil war" between British Muslims and Christians was coming to the UK, and that her group planned an unprecedented number of events for 2016. The pair said bail conditions now imposed on them would make it harder for them to lead and take part in future Britain First rallies.
What is the Public Order Act (1936)?
The leaders of Britain First, Paul Golding and Jayda Fransen, were arrested for "wearing uniform with political objectives" using laws passed under the Public Order Act (1936).
The act, passed under King George VI, was originally intended to curb the activities of Oswald Mosley's British Union of Fascists, also known as the 'Blackshirts'.
The Act prohibits "any person who in any public place or at any public meeting wears a uniform signifying his association with any political organisation or with the promotion of any political political object".
A clarification adds that citizens may be permitted to wear uniforms "on any ceremonial, anniversary, or other special occasion" so long as the Secretary of State is satisfied that it will "not be likely to involve risk of public disorder."
Fransen said: "The bail conditions are inordinately restrictive and state that, not only are myself and Paul banned from entering Luton but we must also report to a specific police station every Saturday between 12noon and 14:00.
"The former of those conditions illustrates an unbridled desire to appease the Muslim community of Luton, several of whom attacked Britain First activists when we last visited the town. The latter exposes the utter contempt that Bedfordshire Police have for Britain First as a political party; by demanding that the leader and deputy leader must report to a police station on the most common day for political activity."
Britain First, which was launched as a political party in 2011 by former members of the now-defunct British National Party (BNP), has been described by its critics as "far-right", "racist" and a front for "fascists" – all terms denied by the group. Its policies include wanting to bring back national service, completely halting immigration and reinstating the death penalty for paedophiles, terrorists and murderers.
A spokesman for Bedfordshire Police said: "A 34-year-old man from and a 29-year-old woman from London have been arrested on suspicion of a public order offence in connection to a demonstration that took place in Luton on 23 January. They have been bailed pending further enquiries."
It was uncertain whether the arrest meant the group would be banned from wearing their branded clothing in the future.