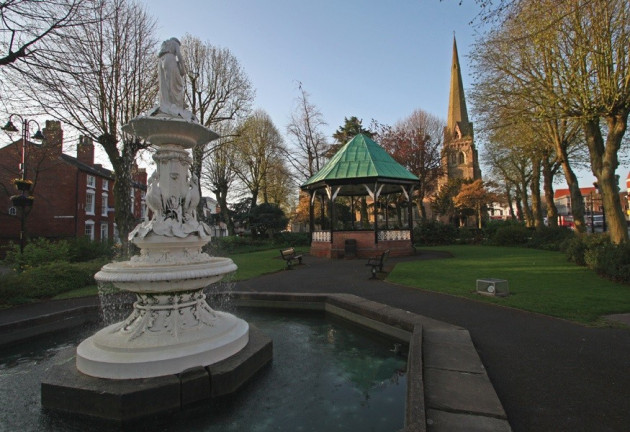 Two thieves have been caught red-handed stealing coins from a wishing well used to help raise money for terminally ill children.
The shameless duo were spotted by stunned passers-bys as they fished the coins out of the town centre fountain in Redditch, Worchester earlier this week.
One man, wearing a camouflage jacket, used a long stick to reach for cash, while the other laid on his front and trawled the one-foot deep water with his arm.
According to witnesses, they planned to use the money, which is donated to the Acorns Children's Hospice charity once a year, for bus fare and alcohol.
Mum-of-six Sharon Bevis, 33, who snapped the scene on her mobile phone, said she confronted the men after she released what they were doing.
"They were taking the money out for bus fare and beer money and they were just not bothered at all when I told them they were bang out of order for doing it" she said.
"They were drunk and didn't seem to care that there were lots of people around and even children watching.
"I told them what they were doing was appalling and that the money goes to children's charities but they didn't listen.
"The strange thing is if you look at the pictures you can see their clothes were clean and new so they didn't look like they needed the money."
The charity and Redditch Borough Council, who own the fountain, have condemned the men's actions.
Carole Crowe, fundraising manager for Acorns, said: "It's very disappointing to hear of this.
"We rely on fundraising and voluntary donations for the majority of our income so donations such as this are vital in ensuring we are able to continue to provide care and support to local children and their families."
West Mercia Police confirmed that the incident is currently under investigation.
"Investigations are underway and we are trying to identify the two men pictured," a spokesman said.