Britain will go to war over Gibraltar's sovereignty, say senior Conservatives
Sir Michael Fallon says the wishes of the enclave's residents must be respected.
Britain will go to war to defend Gibraltar's sovereignty in its ongoing row over territorial claims with Spain, senior Conservatives have said.
It follows lobbying from Spanish diplomats that placed the island's future as a British territory at stake in the European Union's negotiations with Britain over Brexit.
Gibraltar – a British semi-enclave in southern Spain – is heavily reliant on Spain for its economy and voted overwhelmingly to remain in the European Union, however its residents strongly wish to remain part of the UK.
Lord Howard, who served in the cabinets of Margaret Thatcher and John Major, told Sky News' Sophy Ridge on Sunday programme: "There is no question whatever that our government will stand by Gibraltar.
"Thirty-five years ago this week another woman prime minister sent a task force halfway across the world to defend the freedom of another small group of British people against another Spanish-speaking country.
"I am absolutely certain our current prime minister will show the same resolve in standing by the people of Gibraltar."
Appearing on the BBC's The Andrew Marr Show on Sunday (2 April), defence secretary Sir Michael Fallon said: "We are very clear that there cannot be a change in the status and sovereignty of Gibraltar unless the people of Gibraltar agree to it – and they don't. And they clearly don't so that's not going to happen.
"Gibraltar's going to be involved in these negotiations and, again, the chief minister [Fabian Picardo] made that clear. He's going to be involved throughout and there will in the end, of course, be an agreement that fully respects the position of Gibraltar."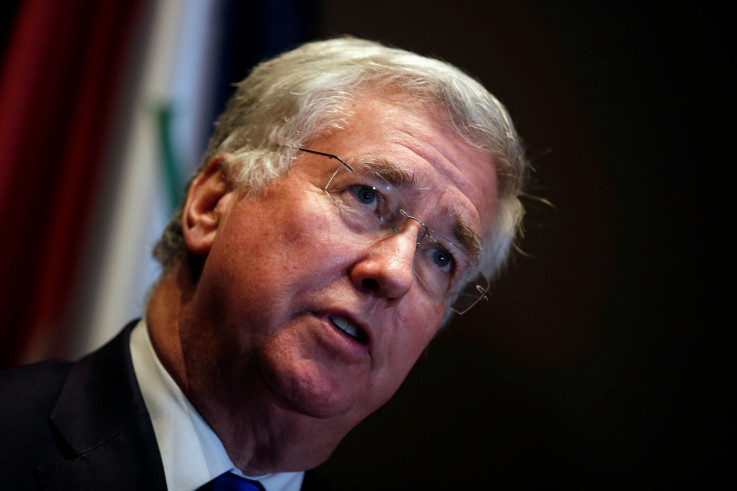 UK defence secretary Michael Fallon, pictured at the Munich security conference.
Reuters
When asked how far Britain is willing to go to protect to protect Gibraltar's interests, Fallon added: "We're going to look after Gibraltar.
"Gibraltar is going to be protected all the way because the sovereignty of Gibraltar cannot be changed without the agreement of the people of Gibraltar and they've made it very clear they do not want to live under Spanish rule."
Spain and the United Kingdom are both members of Nato – the alliance aimed at mutual protection of member states. A Nato spokesman told IBTimes UK that Howard's and Fallon's comments were a matter between the UK and Spain.
In spite of Gibraltar's wishes, Spain has made territorial claims over Gibraltar for more than 300 years.
Appearing on the same programme, Picardo said the prospect of Gibraltar ending up in shared sovereignty between the UK and Spain would be "awful".
"It would strip us of who we are," he said. "It's that simple. Gibraltar would not be British if sovereignty should be shared with Spain.
He added: "It would be absolutely awful. Our home would have been handed over to a party that has no claim to title.
"Our day to day lives would not be the lives that would we live today. We would be living in somebody else's land."
According to a Downing Street spokesperson, Prime Minister Theresa May called Picardo on Sunday to reiterate "our long-standing position that the UK remains steadfastly committed to our support for Gibraltar, its people and its economy".
The spokesperson added: "The prime minister said we remain absolutely dedicated to working with Gibraltar for the best possible outcome on Brexit, and will continue to involve them fully in the process."