Martin Evans, a former Young Businessman of the Year for Wales who set up an ostrich farm to scam investors, and also conspired to supply cocaine has been arrested by armed police in South Africa after three years on the run.
Evans, 52, vanished after being released from Erlestoke prison in Wiltshire on a three-day license in 2011.
Evans, originally of Pontarddulais, near Swansea, swindled 87, mainly elderly, people out of £900,000 by advertising for investors in his South Wales ostrich farm.
In 2012 the National Crime Agency (NCA) – formerly the Serious Organised Crime Agency – named Evans one of Britain's most wanted criminals and thought he may be living in luxury in Cyprus, but soon the focus shifted to South Africa.
The NCA and Interpol conducted a joint investigation with South African police.
NCA head of international operations Hank Cole said: "The exceptional level of collaboration and intelligence sharing with the South African Police Service led to the capture of Evans. This arrest shows the NCA and its partners will pursue fugitives wherever they are in the world. They can run but they can't hide. We have the capacity to track them down and bring them to justice."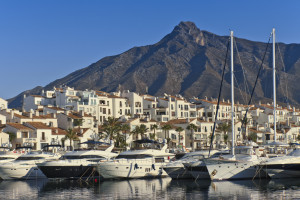 Evans became a criminal when his Neath double-glazing business went under, setting up an ostrich farm to capitalise on concerns over BSE. He offered 70% profits a year to investors, who he tempted by advertising in retirement magazines.
Due to appear in court with his wife, the mother of his two children, Evans jumped bail on the day of his trial in 2000, faxing the court to say he would not be attending and fleeing with a mistress to Spain.
From Europe Evans became the mastermind behind a major cocaine smuggling business and laundered drug money. By some estimates he netted £39m ($65.6m, €48.8m) from his crimes, which also included internet scams.
Caught attempting to enter the US, Evans was arrested and imprisoned to Paris before being extradited to Britain in 2004. In 2006 he was sentenced to 24 years in prison, later reduced to 21 on appeal.
Evans was found to have properties in Miami and Marbella and bank accounts in several countries.
He received a separate eight-year sentence for not obeying a £4.5m confiscation order.
Evans will appear in court in Pretoria and is expected to be extradited back to Britain.