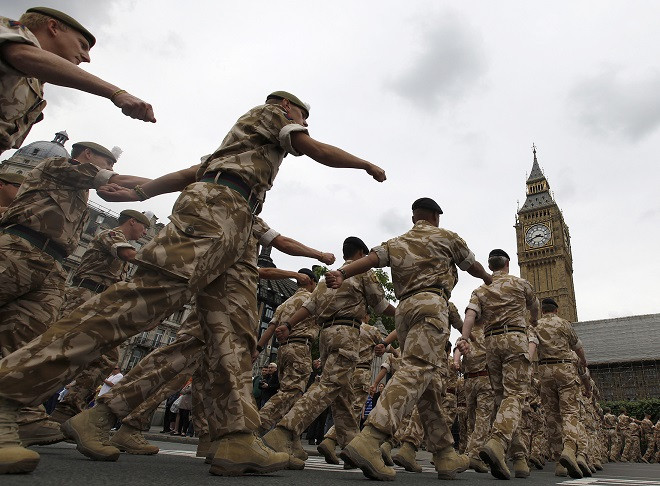 British Army soldier Ryan McGee will appear in court charged with making a DIY bomb inspired by The Anarchist Cookbook.`
It is alleged that between May 2012 and November 2013, McGee possessed a copy of the controversial bomb-maker book and during September of the same year made an improvised explosive device.
He was detained last year at an Army base in Germany after a suspicious device was discovered at a house in Salford, Greater Manchester.
Previous owners of the book have been prosecuted under the Terrorism Act. McGee also faces a charge under the Explosive Substances Act relating to making a bomb.
The Crown Prosecution Service said: "It is alleged that between 31 May 2012 and 29 November 2013, Ryan Adam McGee had possession of a document or record for terrorist purposes, namely a copy of the Anarchist Cookbook.
"He has been charged with one offence contrary to 58(1)(b) of the Terrorism Act 2000.
"It is also alleged that Ryan Adam McGee, between September 1 and 30, 2013, made an improvised explosive and has therefore also been charged with one offence contrary to section 4 of the Explosive Substances Act 1883.
"We have determined that there is sufficient evidence for a realistic prospect of conviction and that a prosecution is in the public interest."
What is The Anarchist Cookbook?

The Anarchist Cookbook was published in 1971 by author William Powell

Delta Press

First published in 1971, The Anarchist Cookbook includes instructions on how to make homemade explosives and drugs.

At the time of its publication, an FBI memo described it as "one of the crudest, low-brow, paranoiac writing efforts ever attempted".

It was written by American William Powell and released during the height of the Vietnam War, going on to sell more than two million copies worldwide.

Last year Powell wrote in the Guardian his inspiration for writing it was "to publish something that would express my anger. It seems that I succeeded in ways that far exceeded what I imagined possible at the time."

He has since admitted the Cookbook is "profoundly flawed".

What are the Cookbook's recipes?

Chapter One: Drugs - The opening chapter of the book details how everyday household items can be manufactured into drugs, including making LSD out of Hawaiian baby wood rose seeds.

Chapter Two: Electronics, sabotage and surveillance - Concerns electronic bugging devices to telephone and communications sabotage. It also reveals ways of making and concealing microphones as well as broadcasting pirate radio.

Chapter Three: Natural, non-lethal and lethal weapons - The most controversial chapter in the book, it contains instructions on how to make a explosives, including pipe bombs, and hand combat weapons like a cattle prod. Powell includes detailed lists of materials, measurements and methodologies.