Russian president Vladimir Putin once eased the concerns of Tim Peake after the British astronaut feared he would be abandoned on the International Space Station if ties between Moscow and the west worsened, it has emerged.
The revelation came from the UK Foreign Office minister Tobias Ellwood who told a Westminster Hall debate on Anglo-Russian relations on Wednesday 4 May that Putin made the assurance when the minister met the Russian leader during the European Games in Azerbaijan back in 2015.
Ellwood said he told Putin "that a friend of mine had cause to use Russian transport and was a bit concerned about international developments - the East and West - and he might get stuck at the end of his destination and not be able to get back.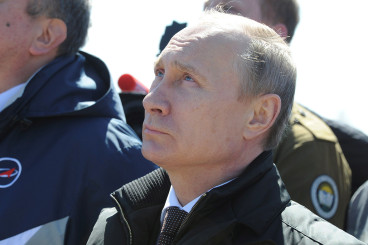 "That friend of mine was called Tim Peake, he was using a Soyuz space capsule to get himself up to the International Space Station and didn't want to be abandoned up there," Ellwood said, according to the Press Association.
"Mr Putin grabbed my arm and said: 'Mr Ellwood, tell Mr Peake we will not abandon him'," he said.
Peake blasted into space aboard a Russian Soyuz FG rocket in December and he is spending six months aboard the ISS, even running a marathon in conjunction with the London 26-mile event.
In the debate Ellwood called on greater co-operation between the UK and Russia and that "it is possible to isolate some of these enormous concerns that we have, the sanctions that take place...to be able to continue these relationships."
Tory Daniel Kawczynski (Shrewsbury and Atcham), opening the debate, said he was very concerned about the "growing anti-Russian sentiment" within the Commons and that Putin is "almost treated as a sort of pantomime villain".
Matters on terra firm have in the past had an impact on the fate of spacemen. In 1992, the cosmonaut Sergei Krikalev was launched into space by the Soviet Union but ended up being stuck in a space station due to budget problems in his country following the end of communism.
When he finally returned to Kazhakstan, 10 months later, it was an independent country.