The news that even the British government's own analysis indicates that Saudi Arabian forces have used UK cluster bombs in their bombardment of Yemen may be shocking, but unfortunately it's not in the least bit surprising.
The allegations first arose this summer, when researchers for Amnesty International found UK-made cluster bombs in a village in northern Yemen. Their findings were backed up in October when ITV News published further evidence of their use. The bomb type indicated that not only were they made in the UK, they were likely to have been dropped by UK made Tornado fighter jets.
Until now the government has said there was no evidence of them being used in this particular conflict, while giving its usual empty assurances about how "rigorous" and "robust" UK arms export controls supposedly are.
Cluster bombs – one of the cruellest weapons in warfare
Government ministers stress that the UK hasn't sold cluster bombs to the Saudi regime since the late 1980s, but that doesn't mean that those bombs aren't being used now. If they are, then it only goes to underline the point that once a weapon has been sold there is little if any control over where or when it will be used or who it will be used against.
Another point that should send a shiver through ministers is that cluster bombs are among the cruellest and most deadly weapons that can be used in warfare. When bombs are dropped they open up in mid-air to release hundreds of sub-munitions, which can cover large areas.
Their impact is indiscriminate. Anybody within striking area of the munitions, whether military or civilian, is very likely to be killed or seriously injured. If Saudi forces are using them, then it tells you everything you need to know about the character of the bombardment.
If cluster bombs are not considered beyond the pale by the Saudi military then what is the likelihood that its personnel are doing everything in their power to avoid civilian casualties? It's not just the bombs that are deadly, it is the mindset that would allow their use in the first place. Is this really characteristic of a military campaign that the UK should be arming and supporting?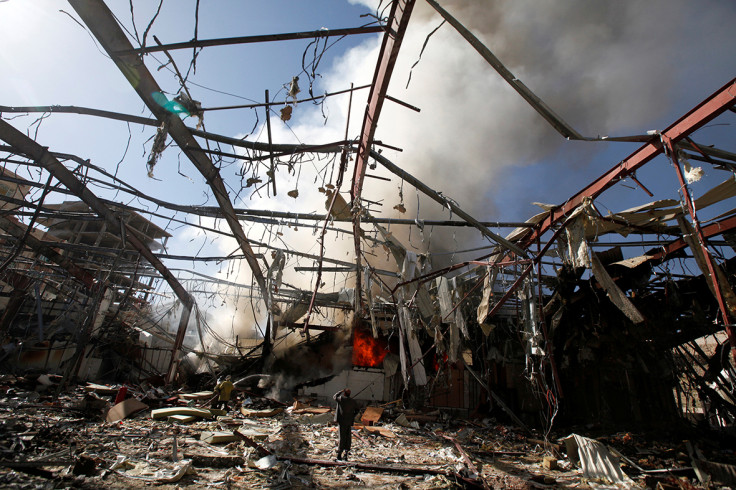 Pressures grows against arms sales
Last week it was announced that the US government would be reducing the sale of bombs and missles to Saudi forces, with widespread civilian casualties being cited as the main reason for the move. The US government is by far the biggest arms exporter in the world. Surely if even the Pentagon thinks that Saudi forces have gone too far then its time for the UK to act?
It wouldn't be before time. Ten thousand people have been killed in the conflict, but it's not just the bombardment which is killing innocent people. It's also the destruction of vital infrastructure and the breakdown in civil society.
Hospitals and schools have been wiped out, while clean water and electricity shortages have become common for large parts of the country. Last week a harrowing report from UNICEF found that one child is dying every ten minutes in the humanitarian catastrophe that has been unleashed.
Business as usual for arms companies
Despite the mounting death toll and the latest allegations, the arms exports have continued unabated, with Whitehall having licensed over £3.3bn worth of weapons since the intervention began almost two years ago.
These exports will finally be given the scrutiny they deserve next February when the High Court reviews their legality following an application by Campaign Against Arms Trade. It will be the first time UK arms exports have been scrutinised in this way and could set a vitally important precedent for the future.
The review is crucial and long overdue, but it alone won't be enough to stop the bloodshed, even if it does succeed in reducing UK complicity.
These latest revelations are a terrible confirmation of the awful conduct of Saudi forces. The bombs themselves could last years and could do severe damage for years to come. They are yet another terrible manifestation of a brutal war being fought by a brutal regime.
Theresa May began this month with a visit to the Gulf where she rubbed shoulders with Saudi royalty and used a keynote speech to the Gulf Cooperation Council as a platform to reaffirm her support for her so-called allies. As I write this, government civil servants are working with BAE Systems to secure sales of even more fighter jets.
With the terrible consequences of the war becoming more apparent, the prime minister and her colleagues face a choice. Will they take action and stand up for those dying in Yemen? Or will they do as their predecessors have done and continue putting arms company interests ahead of civilian lives?
---
Andrew Smith is a spokesperson for Campaign Against Arms Trade (CAAT). You can follow CAAT at @CAATuk.
---