The prospect of a new Commons vote to authorise air strikes against Isis (now known as Islamic State) in Syria in the near future has been raised by the government amid calls for Turkey to step up to the plate.
With the terrorist forces threatening to take the Syrian town of Kobani on the Turkish border, international pressure is being piled onto the Ankara government to join the military action, which it has so far resisted for fear of arming its Kurdish enemies.
And it is becoming increasingly likely that MPs will be asked to vote to extend the UK's current action into Syria, with ministers engaged in talks with opposition leaders to secure their backing.
Defence Secretary Michael Fallon expressed the government's frustration at Turkey's lack of action against Islamic State on its own border, claiming the country "certainly could help".
In careful, diplomatic language he said: "It's a matter for Turkey, but other allies in the region have been helping.
"We would certainly like to see Turkey more involved, but in the end that's obviously a decision for their government."
He also repeated the government's position that, at the moment, there was not parliamentary approval for extending air strikes into Syria. But he also cleared away one potential stumbling block by rejecting suggestions such action would be illegal.
"We don't have the authority of parliament to do that. But the prime minister has made it clear Isil can only be defeated in both countries.
"There is a very strong legal case for us operating in Syria as well as in Iraq but we have not taken that decision yet," he said.
However he also signalled that in the event of successful cross-party talks, it was only a matter of time before the decision was taken.
"When we do take it, we would again have to go to parliament and have an equivalent debate and vote as we had a few weeks ago.
"We haven't taken that decision yet. Obviously we will have to continue to work on it and to consult with the political parties here at home. But, yes Isil can only be defeated in both countries".
Currently the government could not be certain of winning support in the Commons for such an extension of military action, but Labour leader Ed Miliband has indicated he is not ruling it out in the future.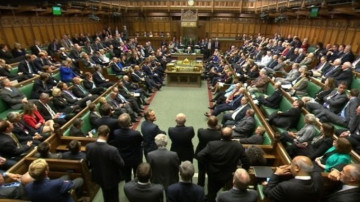 It is backbenchers who are the main problem. There was resentment that the previous vote on action in Iraq was whipped by the political party leaders. A small number of MPs on all sides rebelled by voting against and a larger number abstained.
Shadow minister Rushanara Ali resigned over the issue and Iain McKenzie was sacked as an aide to shadow defence secretary Vernon Coaker for failing to back the move.
At the moment it appears Labour and many backbenchers are not ready to consider any extension of action.
There has been widespread welcome of the involvement of regional powers in the campaign but the reluctance of Turkey to join the action will only add to the feeling that the UK should hold back.
Turkey's foreign minister Mevlut Cavusoglu has hinted the country might be willing to be involved in a ground operation, seen as the only way of ultimately defeating IS, but only with the involvement of other regional governments.
"We are holding talks. Once there is a common decision, Turkey will not hold back from playing its part," he said.
And it is that sort of regional agreement that ministers are waiting for before they believe it would be realistic to go back before MPs to ask for their support for widening the current action.