British co-pilot Chris Wilson, 39, from Cheltenham, Gloucestershire, was among 19 who died in a plane crash in the Democratic Republic of Congo when a crocodile apparently escaped from a bag, causing a panic on board.
Gloucestershire Coroner's Court heard how Wilson was co-pilot aboard a Czech-built Let L-410 Turbolet flying from Kinshasa to Bandundu on 25 August 2010. The plane was beginning its descent when suddenly the plane "fell out the sky like a leaf," crashing into buildings. All but one of those aboard perished. The crocodile apparently survived but was then killed by machete.
A number of explanations had previously been put forward about the cause of the crash including mechanical failure, pilot error and running out of fuel. Wilson had complained several times about the competence of his pilot, Belgian Danny Philemotte, who owned the airline, Filair. Philemotte was at the controls when the crash occurred.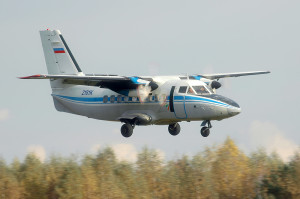 Wilson had also voiced concerns about passengers walking around on board and carrying animals, but needed to chalk up 1,000 hours flying time to get a commercial pilot's license.
It has now emerged that the one surviving passenger described how a crocodile two or three feet long escaped from a passenger's bag. Chris's father Rob emailed Congo officials to say he had spoken to a crash site investigator. This email was read out in court by Assistant Coroner David Dooley.
"Rob Wilson said he had spoken to the original investigator on the site who said that there was a gentleman who came up with a story about a crocodile," said Dooley. "There is apparently a video of the crocodile being taken out of the plane. They think it may have frightened the cabin crew member and she ran forward, with the other passengers following. The weight shift caused by the panic may have affected the plan causing it to nose dive or stall."
As no black box was handed over Dooley recorded an open verdict, saying: "Problems with direct witnesses and problems with the black box have only resulted in vague guesses as to what happened with this crash. All we have are possibilities rather than probabilities. I don't believe any further efforts could have been made to obtain any further information."