Two British teenagers have appeared in court in Poland accused of stealing a hair clipper, buttons and shards of glass from Auschwitz whilst on a school trip. The pair, Marcus Dell and Ben Thompson, both 18, attended the former death camp in June 2015.
The pupils, who attended the £15,500-a-year Perse School in Cambridge, are expected to go to trial over the alleged theft, after appearing in a Krakow court on 9 September. Guards at the site say that they saw the pair pick up the items from the ground, the court heard on Friday.
The pair had been visiting the Camp Five area of the death camp, where Jewish prisoners were stripped of their belongings, when the were accosted by the guards.
The boys underwent a body and bag search after allegedly being spotted acting suspiciously near the Canada section of the museum. The pupils say they only picked up the items to show to their guide.
They deny a charge of stealing artefacts of special culture importance, which carries a maximum penalty of 10 years. At their first appearance in court, the judge heard how fragments of a spoon and glass were also found on the pair, who were 17 at the time of their arrest.
The pupils initially admitted the thefts, and were fined £170 ($225) and given a suspended probation. But once back in the UK they changed their pleas.
More than one million people – mostly Jews – were killed in Auschwitz-Birkenau during the Nazi Holocaust. Prisoners in Auschwitz who were spared immediate execution in its gas chambers were forced to work as camp labourers and in factories for German industrial companies until they died. The remains of the camp is situated an hour's drive from the Polish city of Krakow.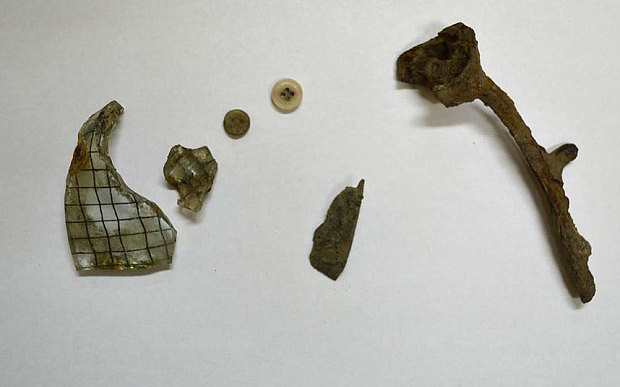 Thompson's parents, Alan and Sharron of Hertfordshire, said, according to The Sun, that their son's action was "disrespectful" and they were "very sorry". The newspaper adds that Dell's dad Christopher said it was "an unfortunate incident" and the family were "upset and saddened".
The headmaster at their school Ed Elliot said: "Removal of historical artefacts is clearly wrong and a very serious matter". The trial continues.