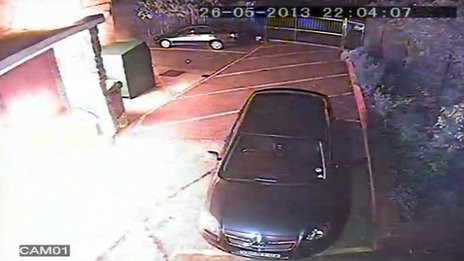 Two British former soldiers who fire-bombed a mosque in Grimsby in the wake of the murder of Fusilier Lee Rigby have each been sentenced to six years in jail.
Stuart Harness, 33, and Gavin Humphries, 37, both of Grimsby, pleaded guilty to arson with intent to endanger life after the town's Islamic Cultural Centre was petrol-bombed on 26 May – four days after Rigby was murdered in Woolwich.
A third man, Daniel Cressey, 25, of New Holland, was found guilty of aiding and abetting the arson in November. The jury Grimsby Crown Court heard how he had driven Harness and Humphries to the mosque but did not take part in the attack.
CCTV footage appeared to show three petrol bombs being thrown over the gate of the building, one of which landed by the door.
Police said no one was injured in the fire.
Detectives found the pair unwittingly filmed themselves making the bombs used in the attack in the back yard of Harness's house and carrying them out of the front gate.
The court heard how they had failed to spot that the CCTV system was still working.
DS Stewart Watson, from the Serious Crime Team in Grimsby said: "We welcome the sentences handed to the three men, who have been found guilty of an arson attack on the Grimsby Islamic Centre earlier this year.
"This was a very serious offence that could have resulted in people inside the mosque being fatally injured, thankfully nobody was inside at the time and only minimal damage was caused to the building.
"These three men took it upon themselves to react to incidents happening elsewhere in the country and retaliated by targeting the Islamic Centre. I am pleased to see that they have been brought to justice and taken from the street of North East Lincolnshire for a period of time.
The mosque was also attacked three days before the petrol-bombing incident. On that occasion, police arrested 11 individuals following reports of youths causing damage to several parked vehicles and the Mosque. Police said the two incident were not related.
Michael Adebolajo and Michael Adebowale, 22, were found guilty of murdering Rigby. They are due to be sentenced.