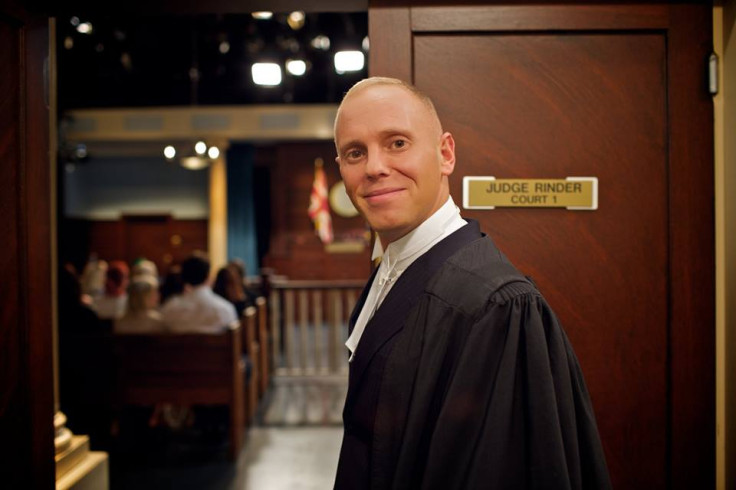 TV personality Robert Rinder, more popularly known as Judge Rinder from its ITV court show, has reportedly split from his partner for 11 years and husband of 4 years, Seth Cummings.
Rinder tied the knot with Seth Cummings in a civil ceremony that was officiated by his best friend and Sherlock star Benedict Cumberbatch. According to a report in The Sun, the 39-year-old barrister is "very upset" about the situation.
A source close to the ITV judge told the outlet, "It's very sad news but Rob is separating from his partner of 11-and-a-half-years. He's very upset about the situation, but the split is amicable and no one else is involved."
The TV personality allegedly wants to focus on his work on his TV show, post-split, stated the source. "Rob has never spoken about his relationship and nothing will change on that front. He very much wants to focus on his work, including Judge Rinder on ITV which he absolutely adores," the insider added.
Speaking previously of his marriage on Radio 1, Robert said, "We got married, it's no secret, but no one was supposed to know – somebody put the pictures on Facebook Seth used to be a political adviser to George Osborne, now he's a lawyer in a serious firm. And now when you Google me it brings up his name and Benedict..."
Speaking about Cumberbatch officiating their ceremony, he admitted, "We're good friends from Manchester Uni. He officiated at our civil ceremony. But I'd never want to piggy back on his superstardom. Never have, never would."
The Doctor Strange actor, who met Rinder when they were students at the University of Manchester, opened up about officiating the civil partnership ceremony on Graham Norton show.
He said, "It's a very private, lovely thing to be asked to do. Of course, I'm going to make a joke after it, 'I do weddings. Next will be children's parties and bat mitzvahs."
"It's a mainly Jewish and gay audience, so hopefully they will be lenient towards me," he cheekily added.
Judge Rinder is a British court show that airs weekdays on ITV since its premiere in August 2014. The show centres on criminal barrister Robert Rinder as the judge, who oversees a variety of civil cases, such as disputes over basic consumer issues, business/personal/neighbourhood disputes, and allegations of negligence.