The Barclaycard British Summer Time Festival kicked off this weekend in London, and featured some of the UK's favourite music acts performing to a packed Hyde Park.
Sunday (21 June) saw pop superstar Kylie, who has been in the industry for over 25 years, headline the event, along with the iconic Grace Jones, the legendary Chic feat. Nile Rogers, and British-Lebanese singer MIKA.
Despite the cloudy weather, Kylie did not disappoint and wowed the crowd with one of her famously extravagant live shows. She began her set in true queen-of-pop style, wearing a crown on her head and a black velvet robe emblazoned with 'Kylie' in gold across the back.
Surrounded by a team of dancers, the Australian singer performed some of her most-loved hits such as Can't Get You Out of My Head and Spinning Around, along with one of her old classics, Locomotion.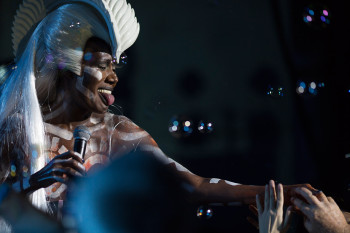 Taking to the stage just before Kylie was the incredibly exuberant and energetic Grace Jones, who gave the I Should be so Lucky singer a run for her money in the wardrobe department.
Jones sang her opening number Nightclubbing wearing only body paint, a thong, and a waist-cincher corset, topping it off with a gold skull and feather headdress.
The headdresses were changed for every song, each becoming more grandiose than the last.
Jones both excited and perplexed the audience with her antics as the famously crazy character hula-hooped whilst singing, jumped onto a security guard's shoulders to be carried around the crowd, and at one point proclaimed "My nipples are sweating!" as the body paint was coming off of her breasts.
The 67-year-old singer didn't waste any time proving that she still has what it takes to be the queen of the club, even though her first single I Need a Man came out in 1975.
In the afternoon, soul sensations Chic feat. Nile Rogers got the crowd up and dancing with disco classics such as Everybody Dance, Good Times, We Are Family and He's The Greatest Dancer.
The ever charismatic MIKA drew a large crowd in singing some of his biggest hits from the album Life in Cartoon Motion.
The British Summer Time Festival has moulded itself as the perfect pre-Pride party for London, taking place a week before the annual LGBT+ celebration.
The festival is running until 28 June, with the week ahead still to feature an outdoor film festival, Gorilla Circus trapeze lessons, and a range of stand-up comic acts, while the following weekend boasts acts such as The Who and Taylor Swift.