British tourists are among at least 10,000 residents and holidaymakers forced to flee homes and campsites as wildfires rage across southern France and Corsica.
Around 3,000 campers were among those evacuated, while film and TV actress Dame Joan Collins, abandoned her house near Saint Tropez last night (25 July).
In a tweet she said: "Luckily we were able to evacuate last night, not easy with 11 people in the house! We are all okay."
Up to 900 hectares of forest is engulfed in flames, threatening homes on the island of Corsica, off the southern French coast.
A further 860 hectares has been ravaged by a blaze in the Vaucluse department in the Provence-Alpes-Cote d'Azur region.
Diana and John Wardill, a couple from Yorkshire, were also caught up in the blaze, which spread so close to their home in St Tropez that they got in their car and fled.
"It was shocking. It happened so quickly," Diana told the Yorkshire Post.
She added: "We watched it for a bit but realised how quickly it was moving, so we came in and packed our bags and got in the car."
The couple spent the night on the seafront as firefighters battled to control the blaze.
The fires along the Riviera and in Corsica, which has seen little rain in recent weeks, began on Monday (24 July). They are being spread by strong mistral winds.
More than 4,000 firefighters and troops, backed by 19 water bombers, are being used to put out the fires. At least 12 firefighters and 15 police officers have been either injured or affected by smoke inhalation.
Foul play
One of the latest fires broke out in Bormes-Les-Mimosas, in Provence, and led to evacuation of residents and tourists in the path of the blaze. The area's population doubles or triples in July and August with the arrival of holidaymakers, a fire service official said.
The mayor of Bormes-les-Mimosas, François Arizzi, did not rule out foul play.
"The blaze may have been started by arsonists," he told The Telegraph. "The investigation will tell us, but I suspect there was malice."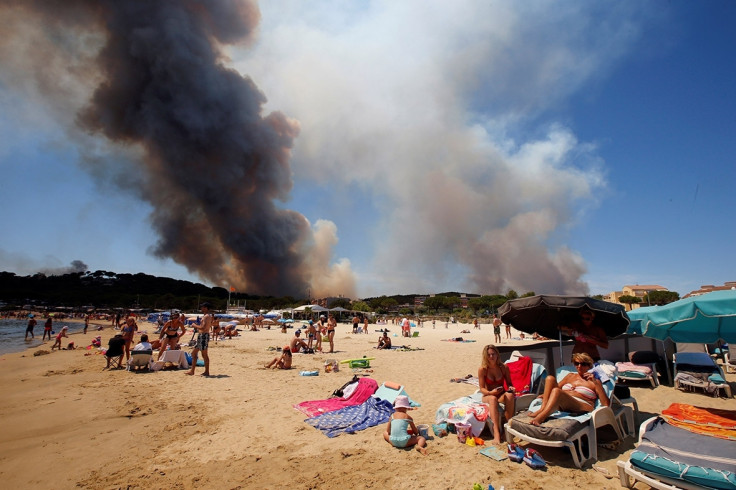 Travel trade body Abta said: "Holidaymakers in the affected areas should follow the advice of the local authorities to the letter, stay in touch with their travel provider and monitor local media reports, as well as checking the Foreign Office travel advice for France."
It added that tourists with imminent travel plans to the affected areas will be contacted by their travel agents, if new arrangements need to be made. Independent travellers should check with those providing their accommodation, the body added.
The Foreign Office travel advice website for France said: "Forest fires can occur anywhere in southern France during the summer months but especially along the Mediterranean coast and on Corsica.
"French authorities may evacuate areas and close roads for safety reasons. Be vigilant, make sure you're familiar with local emergency procedures and follow the advice of local authorities."