At least 10,000 people have been evacuated overnight on 25 July after a new fire raged in southern France. The blaze came as firefighters were already battling against forest fires along the French Riviera.
The largest fires were near the popular coastal town of Saint-Tropez and on the Mediterranean island of Corsica.
The new fire has hit Bormes-les-Mimoses, in the country's Provence-Alpes-Côte d'Azur region.
"The evacuations, at least 10,000, followed the progression of the fire. It's an area that doubles or triples its population in summer," a fire service official attending the blaze near Bormes-les-Mimosas told AFP.
Lisa Minot, travel editor of The Sun newspaper, posted pictures of the Camp du Domaine campsite in Bormes-les-Mimosa, being evacuated around 2am.
"Fire still visible from our beachfront pitch. Kids are sleeping. Wish we had some info," she tweeted in the early hours of Wednesday. "Sirens still going off. Some info would be nice. Winds still high," she said in another tweet.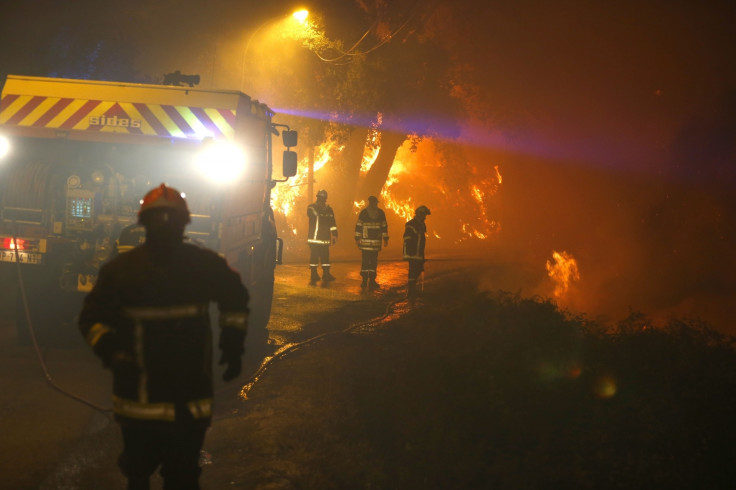 More than 4,000 firefighters and troops, backed by 19 water bombers, have been deployed to put out the fires. At least 12 firefighters have been injured and 15 police officers affected by smoke inhalation since the fires broke out on Monday ( 24 July).
France has asked for Europe's help to tackle the fires. The governmentrequested neighbouring countries to send two extra fire-fighting planes, a request that was fulfilled by Italy, according to the EU.
"The EU stands in full solidarity with France. In an immediate response, the European Commission has helped mobilise a Canadair aircraft from Italy through our Civil Protection Mechanism," European Union (EU) Commissioner for Humanitarian Aid and Crisis Management Christos Stylianides said.
"Earlier this month, France helped Italy fight forest fires and now Italy is showing its support to France. This is EU solidarity at its best. Our thoughts are with all those affected and the brave first responders working in difficult conditions."