British voters give Jeremy Corbyn and Nigel Farage the same poor approval ratings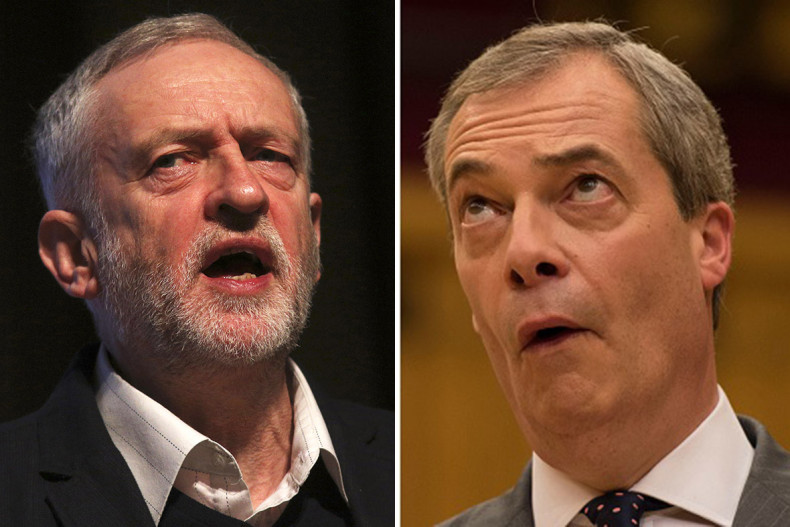 Labour leader Jeremy Corbyn and Eurosceptic firebrand Nigel Farage share something in common – their poor approval ratings. The British electorate are dissatisfied with the top politicians, with Corbyn and Farage both earning a net rating of -18.
David Cameron, however, is well ahead of the leader of the opposition and Ukip head honcho, as the prime minister has a net satisfaction rating of -9, according to Ipsos Mori. The telephone poll, of more than 1,000 people between 23 and 25 January, also found that Tim Farron is struggling to be heard.
The Liberal Democrat leader has a net approval rating of -10 but 46% of those surveyed did not know whether they were satisfied with the Westmorland and Lonsdale MP or not. The research is not all good news for the Tories, though.
The government's net approval rating is -20, behind Corbyn, Farage, Clegg and Cameron. Gideon Skinner, head of political research at Ipsos Mori, warned Labour had a number of big tests to overcome in 2016. "Labour starts 2016 with big challenges ahead, being the furthest behind the Conservatives on perceptions of unity and leadership team since we started asking the question," he added.
"The last time one of the big two was this far behind was in May 2001, when William Hague's Conservatives were trailing Tony Blair's New Labour. Meanwhile, the British public are as opposed to unilateral disarmament today as they were when we were asking them 30 years ago."
The study, conducted for the Evening Standard, comes after former Labour leader Lord Kinnock, who lost the 1987 and 1992 general elections to the Tories, claimed Corbyn would have to resign or face a leadership challenge if things do not turn around for Labour.
But the Welsh peer did urge Labour MPs not to split from the party over Corbyn's leadership. "Anybody advocating it has got to face the reality that they would be letting the Tories rule the 21st century just like they mainly ruled the 20th century," he told the New Statesman. "There can't be any rational social democrat or democratic socialist who would want that but it is a historic inevitability if they pursue it."
Corbyn has only faced one electoral test in the shape of the Oldham West and Royton by-election. The December 2015 ballot saw Labour retain the Greater Manchester seat and increase its share of the vote. However, the left-winger will face bigger challenges come May when a series of elections, including votes for the next Mayor of London, Holyrood and the Welsh Assembly, will be staged.