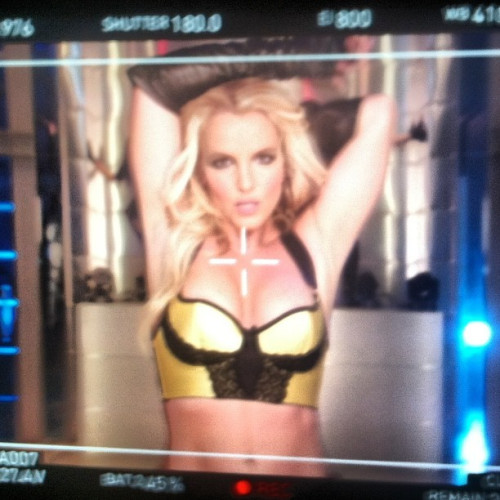 With just a week to go before she begins her Piece of Me Las Vegas residency, Britney Spears has finally released her set list.
The 32-year-old singer will perform 24 of her biggest pop hits each night of the two-year concert series from 27 December.
The singer, who sprang to fame as a teenager with the release of her global hit Baby One More Time, made the final selection of tracks together with manager Larry Rudolph, who insisted that the show should be a "career retrospective", of her last 15 years in the music industry.
In an interview featured on the forthcoming behind the scenes E! documentary, I Am Britney Jean, the star explained: "It's kind of tough because the fans want a certain selection of songs and many of them want to hear the old hits. But then for me I have to keep it fresh to do the show so I have to incorporate some of the new stuff.
"I hope my fans get a personal feeling from the show and a piece of me, a piece of my soul because I am putting my heart and soul into this."
Her playlist includes tracks from throughout her career including: Oops... I Did It Again, (You Drive Me) Crazy, Slave 4 U, Toxic and Boys.
In keeping with Las Vega's reputation for excess, the lavish set boasts a 360-degree media wall, which mimics a planetarium, and the decor will involve venus flytraps and disco balls.
The 100-minute show will feature 24 songs, a four-piece band, and 14 backup dancers.
With entirely new choreography the singer said the experience of rehearsing for the show has been challenging but rewarding.
"This year I have new choreographers,' she explained. 'They're fresh and upcoming guys so their stuff is really hard. It's more rewarding after you perform something that's really hard to do rather than something that you just throw together."
Spears has nevertheless impressed her choreographer, who was reported as saying: "Prep time is really tight but the way Britney retains choreography and picks up choreography is really fast. It's amazing how much material she is learning in such a short amount of time."
The former Mickey Mouse Club star has been working since she was a child but said that she had no plans of retiring from the music industry just yet. "I have thought about it,"' she told E! News, "'but I think right now is my time to perform and doing what I'm doing."
"'If I happen to have another baby or something like that, I'd probably move back to Louisiana. I do miss Louisiana."
The documentary I Am Britney Jean premieres Sunday 22 December on E! at 9pm in the UK.
PIECE OF ME SETLIST
1. Work Bitch
2. Womanizer
3. 3
4. Oops... I Did It Again
5. ...Baby One More Time
6. Me Against The Music
7. Slave 4 U
8. Toxic
9. Circus
10. Scream and Shout
11. Till The World Ends
12. Piece Of Me
13. Hot As Ice
14. Boys
15. Perfume
16. I Wanna Go
17. Lucky
18. Stronger
19. If U Seek Amy
20. Get Naked (I Got A Plan)
21. (You Drive Me) Crazy
22. Do Somethin'
23. Freakshow
24. Gimme More