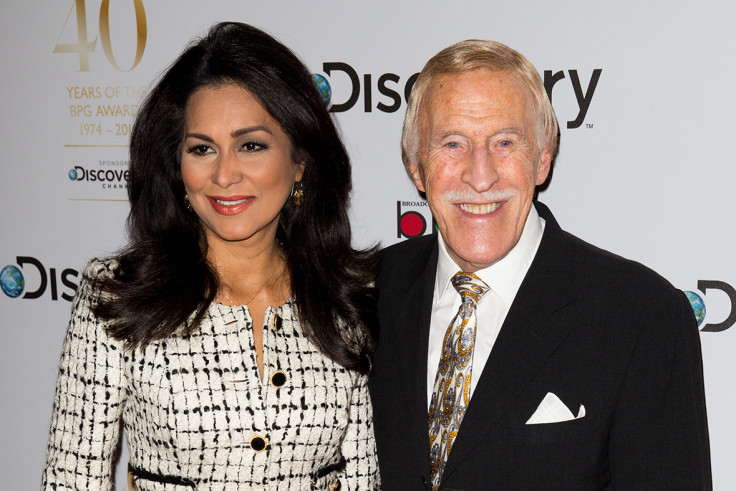 Months after undergoing life-saving surgery, Sir Bruce Forsyth is still struggling to recover, his wife has revealed. Lady Wilnelia opened up about her husband's health in a recent interview, saying that despite the odds, she hoped he would return to performing one day.
The 88-year-old TV veteran – who has presented shows including The Generation Game, Play Your Cards Right, The Price Is Right and You Bet! – had keyhole surgery in 2015 after doctors discovered he had two aneurysms following a fall at his Surrey home.
His other half has since admitted that while he is in "incredible shape mentally" he is struggling to move after the major operation.
"I don't think about it too much. I hope I'll be prepared [for the future] somehow, but it doesn't feel real," she told the Daily Mail's You magazine. "He has a bit of a problem moving, but we still laugh and talk. I pray, I believe."
The Puerto Rican former Miss World winner added that despite his physical well-being he's still "the man I fell in love with because his brain is there."
She continued: "The main thing is that he's doing well. The pain is more emotional; sometimes we cry, but mostly we laugh."
His health issues mean the couple, who have been married since 1983, have had to postpone their trip to Puerto Rico in the New Year. Wilnelia said: "He doesn't want to do anything until he's 100% well. I respect that."
Forsyth, who rose to fame in the 1950s series Sunday Night at the London Palladium, is the longest-serving male entertainer in television history. In 2014 he stepped down from presenting Strictly Come Dancing, after 10 years hosting the programme.
"I believe it is now the right time to step down from the rigours of presenting the Strictly live shows," he said at the time. "I am very proud of what the show has achieved and confident it will entertain the nation for many years to come."