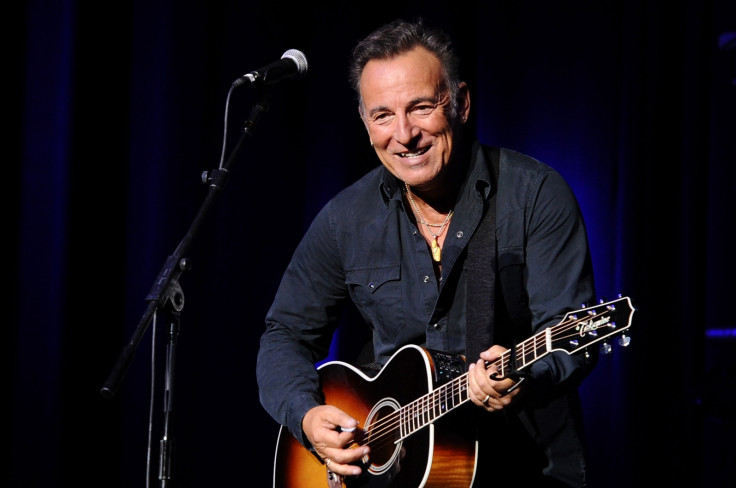 American footballer Colin Kaepernick has outraged many with his refusal to stand for the US national anthem but Bruce Springsteen has supported his stance. Addressing the controversy, The Boss has said he "admires" the San Francisco 49ers player for making a statement on racial injustice as it's not often that sports stars bring politics to the playing field.
Since August, Kaepernick, 28, has either sat or knelt during the Star-Spangled Banner before NFL games as he says the US "oppresses black people and people of colour". The quarterback's protest has received support from fellow athletes including Lebron James and Stephen Curry but many have been critical.
Commending Kaepernick, Springsteen told Rolling Stone magazine: "Athletics is a difficult place to make political statements. There was the Olympics in the sixties, and obviously Muhammad Ali. But sports is such an escapist field.
"I think when politics or personal expression is injected, it rankles people more than in other fields. We're in a time where there isn't any place where these issues can be excluded. I admire Kaepernick, but it's a very difficult field to be outspoken in."
The Born In The USA icon also addressed Black Lives Matter, which campaigns against police brutality, and said the movement has been a long time coming. Springsteen, 67, explained: "Well, it's all chickens coming home to roost."
He continued: "These are issues that have been ignored or hidden, and due to modern technology and the availability of cellphone cameras and constant video feed, these things are coming to the surface. Black Lives Matter is a natural outgrowth and response to the injustices that have been occurring for a very long time in the United States."
It is not known exactly when Kaepernick will stop his national anthem protest but he has made it clear that he intends to fight oppression.
Speaking to NFL Media after he first boycotted the song on 26 August, Kaepernick said: "I am not going to stand up to show pride in a flag for a country that oppresses black people and people of colour. To me, this is bigger than football and it would be selfish on my part to look the other way. There are bodies in the street and people getting paid leave and getting away with murder."