Brunei Sharia Law: Beverly Hills Asks Sultan to Sell Brunei-Owned Hotel in Hollywood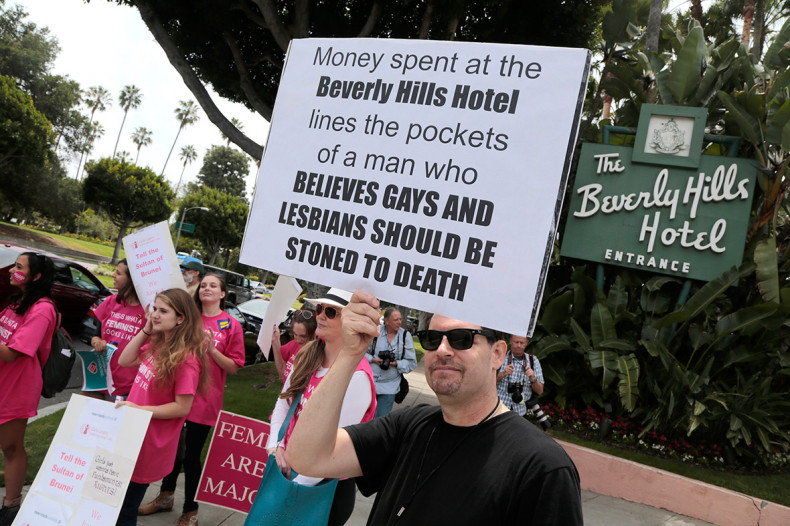 Beverly Hills councillors have asked the Sultan of Brunei, Hassanal Bolkiah, to sell a Hollywood-based hotel which he owns, following the implementation of sharia law in his country.
The new harsh penal code sees death by stoning for "crimes" such as homosexual offences, adultery, abortion and blasphemy.
Beverly Hills City Council passed a resolution condemning the government of Brunei for the extremely harsh penalties, the Jakarta Globe reported.
The council said they will send the resolution to the State Department asking Washington to "take appropriate action to condemn the Brunei government's policies."
"This resolution is calling for the [Brunei] government to change their laws or to divest themselves of the Beverly Hills Hotel to separate the fact that our iconic hotel is under their ownership," Beverly Hills' mayor, Lili Bosse, said.
She then called the new laws "shocking [and] inhumane."
But the head of the Dorchester Collection hotel chain, owned by Bolkiah, said the resolution would only harm hotel staff.
"The actions you take have to be seriously considered because they will affect the livelihoods of these people," Christopher Cowdray told Beverly Hills city lawmakers at a council meeting.
In an interview with CBS News, Cowray said: "Beverly Hills Hotel has done absolutely nothing wrong. I feel totally unfairly picked on."
A spokesperson for the Dorchester Collection has said: "We are sensitive to the fact that any such potential withdrawal of business directly impacts our employees, who represent the full diversity of society.
"We are aware that many variations of Sharia law are practised in many countries throughout the world and these countries have diverse business interests including fashion, hospitality and travel groups, media, entertainment, banking and many other sectors."
Following the introduction of the new laws, LGBT supporters led campaigns for people to boycott Bolkiah's hotels.
American celebrities such as Jay Leno, Ellen DeGeneres and Sharon Osbourne have all joined the boycott to protest against the implementation of sharia law.
English comedian and activist Stephen Fry has cancelled his reservations with the Dorchester hotel in London and the Coworth Park Hotel in Ascot.
If you would like to join the boycott yourself, click here for the full list of hotels owned by the Sultan of Brunei.