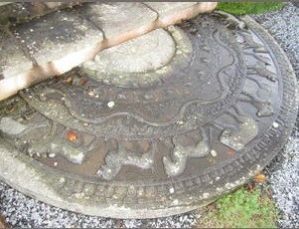 A Buddhist treasure that had been used as a doorstep for a Devon home has sold for over £500,000 ($800,000) at auction.
The semi-circular temple stone would have been located at the bottom of a Buddhist temple in what is now known as Sri Lanka 1,000 years ago.
However, the carved granite stone had been gathering moss at the Exeter home of Mike and Bronwyn Hickmott for years.
When the couple decided to move home, they asked Bonhams to take a look at the ancient artefact, and Sam Tuke from the auctioneers recognised its value.
The 2.4m stone ended up with the Hickmott's after Bronwyn's parents bought it from a tea planter who had returned from Sri Lanka in the 1950s.
The stone is one of only seven examples from the period. It weighs three-quarters of a tonne and is 14cm thick.
Mrs Hickmott had realised its potential value before Bonhams took an interest but had been turned away by many antiques experts and auction houses.
The stone depicts a series of carved bands showing forked tongues, animals, foliage, swans and lily petals. The centre shows a half lotus flower.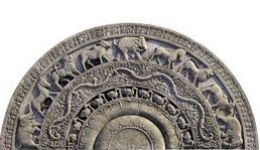 The design of the sandakada pahana, or moonstone, is from the late Andurhadpura period.
The history of this period suggests why the stone was removed from Sri Lanka. The city of Anuradhapura is situated on the banks of the stream Malwatu Oya and is linked with the northwest and northeast seaports.
It was occupied for thousands of years but gradually declined in the 10th century through political unrest, invasions, environmental instability and changes in trading patterns.
Rampant jungle vegetation reclaimed the city until the late 19th century, when the Sri Lankan government began restoring, clearing and rebuilding the site.
The stone was valued at £30,000 ($45,000) at auction but ended up making £553,250 ($800,000).
Bonhams said there was a battle between buyers in the room and on the phone, with eight telephone bidders and three people in person.
The Hickmotts said: "We are overwhelmed with the price achieved. It goes beyond all our expectations.
"We had been turned away by other international auction houses as well as television antiques shows. Everyone pooh-poohed our belief that the stone was special. It was only Sam's determination to research the stone that has led to this happy result. We are thrilled."