Buffer zones are needed around abortion clinics to prevent harassment by pro-life protesters say MPs
Abortion clinic staff have been called 'murderers' and women have been told they will 'die from cancer'.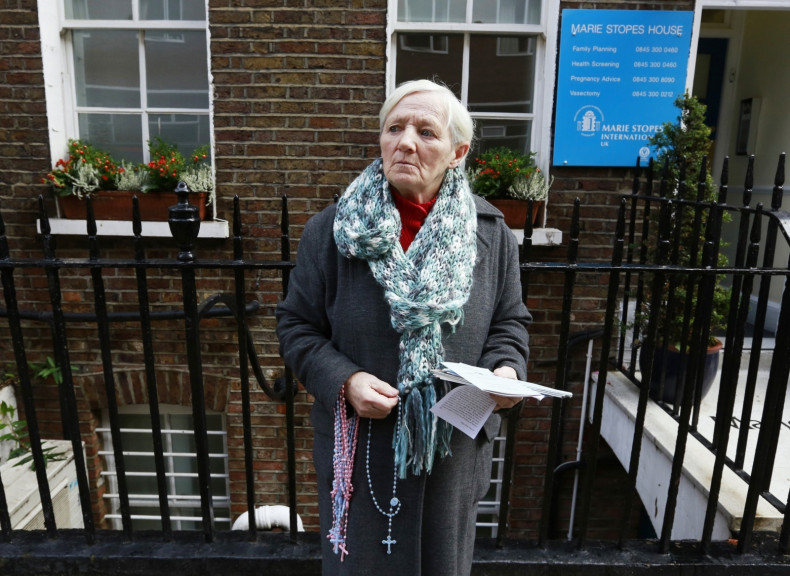 MPs are calling for buffer zones to be introduced around abortion clinics after hearing of intimidation of staff and women by pro-life protesters.
A parliamentary committee heard how protesters followed staff to their cars and called them "murderers". Also, women having abortions have been told that they will "die of cancer".
Home Secretary Amber Rudd ordered an assessment of protests outside abortion clinics over concerns about such tactics. The incidents of harassment and intimidation are being reported nationwide, MPs were told.
"Looking at legislation to introduce buffer zones or exclusion zones for protesting around clinics of this nature is something we have to look at," Will Quince MP, a member of the Home Affairs select committee told The Telegraph.
"Public Space Protection Orders (PSPOS) are a sticking plaster which could potentially do the job in the short to medium-term—and I would encourage councils to look at this route—but [abortion clinics] are a special case and I think we do need to be looking to legislate," he continued."
John Hansen-Brevetti, clinical governance and quality lead for abortion services provider Marie Stopes, told the Home Affairs committee on Tuesday (12 December) that women were being harassed by pro-life protesters. Some have reportedly been physically grabbed, called "Mummy" and told they would die of cancer.
Abortion clinic staff have also been harassed and abused. Hansen-Brevetti described incidents of staff having cars vandalised, being sent letters addressed to "the murderers of babies," and being followed.
Ealing Council has voted to take measures to prevent harassment outside its clinics. According to The Telegraph, the council is considering PSPOS to address the "emotional coercion" women have been subjected to outside clinics in the borough.
Councillors told the Home Affairs committee that these measures would only be an "interim solution" and said that national action and "a commitment to act from Government" is needed.
According to the Telegraph, the Home Office is considering whether it will be necessary to use police or civil powers to tackle the issue.
"While everyone has a right to peaceful protest, it is completely unacceptable that anyone should feel harassed or intimidated simply for exercising their legal right to healthcare advice and treatment," Rudd said at the start of the review.
Representatives of pro-life groups the Good Counsel Network and the Society for the Protection of Unborn Children denied their volunteers harass women. Both groups also said they were not prepared to voluntarily agree to operate a buffer zone outside abortion clinics.
Home Affairs committee chair Yvette Cooper called the groups' refusing to acknowledge their behaviour is distressing to some women "was very troubling".
"It is clear that unless new measures are taken by the Government, or by local councils, this kind of harassment at the clinic door will continue," Cooper added.