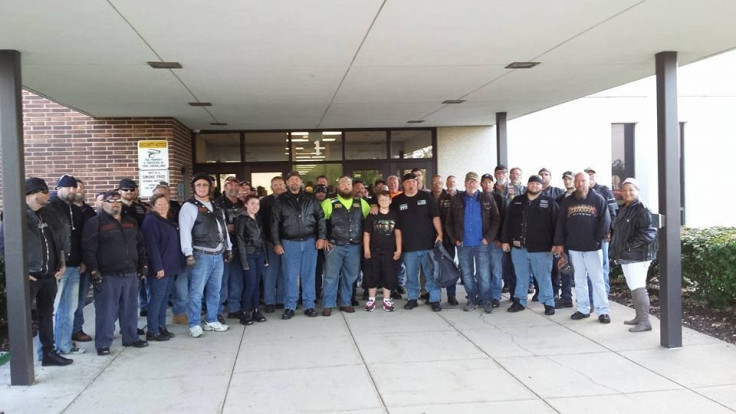 An 11-year-old Indiana boy had a first day at school he won't forget. Admitting that he been bullied so much that he felt worthless and called himself stupid, Phil Mick was joined by dozens of motorcyclists on Tuesday (1 August) on his first day of sixth grade at DeKalb Middle School.
Tammy Mick said her son was not open about being bullied but noticed changes in him and managed to get him to talk about it.
Phil told NewsChannel 15 that he had been bullied for the last two years but had kept it a secret from his family.
"People would kick me and call me names," he said. "I really don't tell people."
Finally, last year he had enough. Phil told his mother he was bullied for his weight. "I was fire engine red mad," Tammy said. "He let them hit him, punch him, everything. He's not the type to tell somebody." Then the boy told her that he had thoughts of suicide.
Organiser Brent Warfield of KDZ Motorcycle Sales & Service told The Journal Gazette that about 50 bikers from Columbia City, Fort Wayne and other cities gathered at Richards Restaurant in Auburn, Indiana for the special motorcade.
Warfield met the Mick family last Christmas and offered to arrange the first-day-of-school escort when he heard about the boy being bullied. "When Phil talked about committing suicide next year, Brent stepped in and wanted to help," Tammy said.
"As a motorcycle community, we don't want to see children getting bullied, because it leads to teenage suicide," Warfield said. He added to NewsChannel 15: "We're coming together to say enough is enough."
Tammy said Phil called the bikers his brothers and sisters and was excited about the motorcycle ride. "I recommend this for any kid who's being bullied," she told the Journal Gazette. "He was all smiles this morning."
According to the Journal Gazette, the bikers prayed for Phil before heading towards DeKalb Middle School.
Warfield told the IBTimes UK he was "honoured to be a part of it and help Phil and many others out".
Principal Matt Vince commended the bikers for supporting Phil. "Standing up against bullying—we need more of that," he said. "And they did it in a positive way." Vince said students, parents and community members are encouraged to report bullying concerns. "We want to know about it," he said. "We want to help."
According to NewsChannel 15, United Motorcycle Enthusiasts is having a suicide awareness and teen bullying ride on 23 September.
The Samaritans provides a free support service for those who need to talk to someone in the UK and Republic of Ireland. It can be contacted via Samaritans.org or by calling 116 123 (UK) or 116 123 (ROI), 24 hours a day, 365 days a year.
If you or someone you know is suffering from depression, please contact a free support service at Mind.org.uk or call 0300 123 3393. Call charges apply.