Galatasaray president Unal Aysal; has attempted to warn off interest in striker Burak Yilmaz by claiming the 27 year old's valuation is at least €40m.
The Turkish international has scored 14 goals in 17 starts, helping Galatasaray towards the domestic title, a race in which they lead Besiktas by five points with ten games left.
But it's in the Champions League where Yilmaz has excelled, scored seven goals in as many games, including in the last 16 first leg against Schalke, a spell of form which has worked to enhance his status across Europe.
And pre-empting interest in Yilmaz, which has previously come from Arsenal, after a successful campaign, president Aysal says his player has an enormous price tag.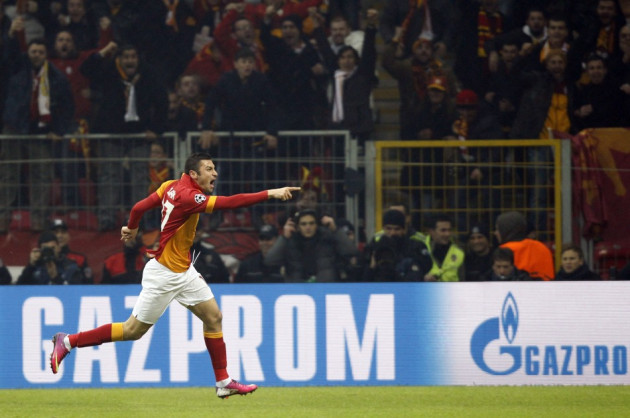 "We have not received any offers for Burak Yilmaz, but, of course, [the speculation] will mount as the end of the season nears closer," Aysal told Sabah.
"Burak is a very valuable star for us. If, however, we are talking about Falcao being worth €55 million [£48m], then my player is €40m [£35m]."
Arsenal were linked with a move for Yilmaz during his days at Trabzonspor, who he left for Galatasaray in the summer of 2012 after netting 33 goals in 34 league games last season.
When asked about leaving Turky for pastures new, Yilmaz said in January 2012: "If I were to move abroad I would want to move to a big club. I would accept a transfer to Arsenal."
Should Arsenal fail to qualify for the Champions League for next season, a task made all the more harder by defeat to Tottenham Hotspur on Sunday which leaves them seven points behind their north London rivals and five adrift of fourth place Chelsea, the club are likely to seek extra attacking options in the summer transfer window.
Olivier Giroud and Lukas Podolski, both of whom were recruited to fill the void left by Robin van Persie, have scored 14 and 13 goals respectively this season in their opening campaign for Arsenal, but a lack of cutting edge was clear for all to see as they were downed by their fierce rivals at White Hart Lane.