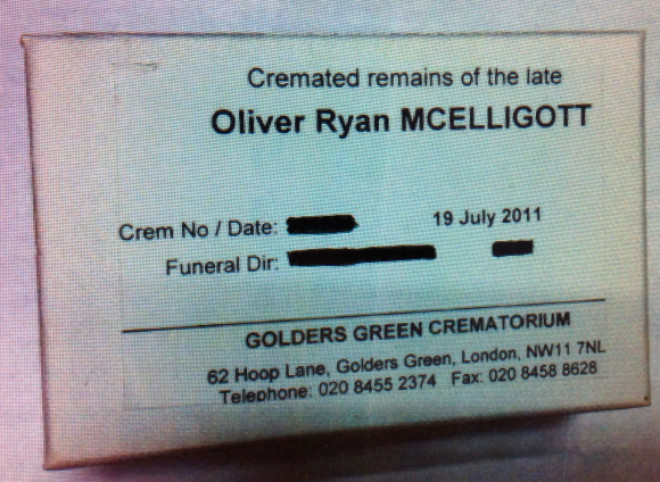 A burglar is thought to have stolen a stillborn baby's ashes after mistaking the casket they were in for a jewellery box.
The brazen criminal took the small white casket containing the remains of Oliver Ryan McElligott during a raid at a home in Archway, north London, in February.
The small white box was clearly marked with the baby boy's name and the date of his death, 19th July 2011. But the Metropolitan Police Service believes the burglar may have mistaken it for a jewellery box.
Devestated Parents Amanda Ryan and her partner Daniel McElligott's were left distressed by the remorseless theft, which also saw items of jewellery, laptops and mobile phones taken, and are now appealing for the return of the ashes.
Investigating officer DC Ursula Surgenor of Camden CID said: "The victims have been left devastated by the loss of their baby's ashes and we are appealing for any information or assistance from members of the public to bring about its return and to catch those responsible.
"The burglary took place between 3pm and 5pm on Thursday, 6 February, and we would like to hear from anyone who may have noticed anything or seen anyone acting suspiciously during this time, at this location. We would also like to hear from anyone who may have come across or seen a box matching the description to contact us."
Anyone with information is urged to call 101 or Crimestoppers on 0800 555 111.