A suspected woman beater was caught doing chin ups moments after he allegedly assaulted a Heathrow Airport worker in a racist attack.
Police have released images of the Asian man who is thought to have punched a Polish woman in the face after she intervened when the man racially abused another woman.
The incident happened at approximately 6.15am on Tuesday, 25 February, while the victim was waiting for a number 423 bus after she had finished her night shift.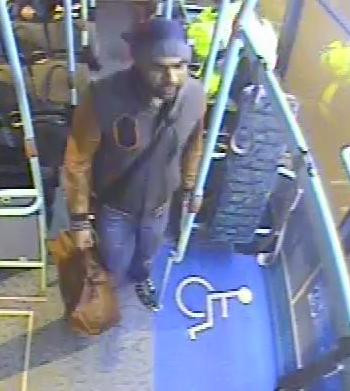 As she waited, the suspect appeared and began verbally abusing another woman at the bus stop. When the victim intervened and asked him to stop he started shouting racist abuse at her.
The bus then arrived but the victim was followed onto it by the suspect who continued to racially abuse her before punching her in the face.
The victim ran off the bus while the suspect remained on it and got off in Hounslow.
He was captured on CCTV on the bus and is seen doing chin ups after the assault.
The suspect is described as being a light-skinned Asian man with untidy stubble on his face and is approximately 5ft 9ins tall and of a medium build.
Anyone with information is asked to contact the incident room on 020 3276 1351, alternatively to remain anonymous please call Crimestoppers on 0800 555 111.