#BurkiniGate: Majority of French people 'against the burkini on beaches', survey reveals
Ipsos survey finds that only 6% of French people are in favour of the wearing of the Islamic swimsuit.
As France's highest administrative court is set to review a request to overturn a ban on the burkini full-body swimsuit, which is worn by some devout Muslim women, it has emerged that the majority of French people are against the burkini being worn on beaches, according to a survey.
The Human Rights League is appealing against a ruling by a lower court, which upheld a ban on the swimsuit imposed on beaches in the Riviera town of Villeneuve-Loubet, west of Nice.
More than 30 French towns have followed Villeneuve-Loubet in imposing a ban, sparking debate on the right to freedom of religion, women's rights and the integration of France's Muslim community.
However, a new survey published on 25 August revealed that two thirds of French people (64%) are against the wearing of full-body swimsuits known as burkinis.
The survey conducted by Ifop for French newspaper Le Figaro found that, while 30% of those interviewed said they were "indifferent", only 6% of those surveyed said they were in favour of the Islamic swimsuit.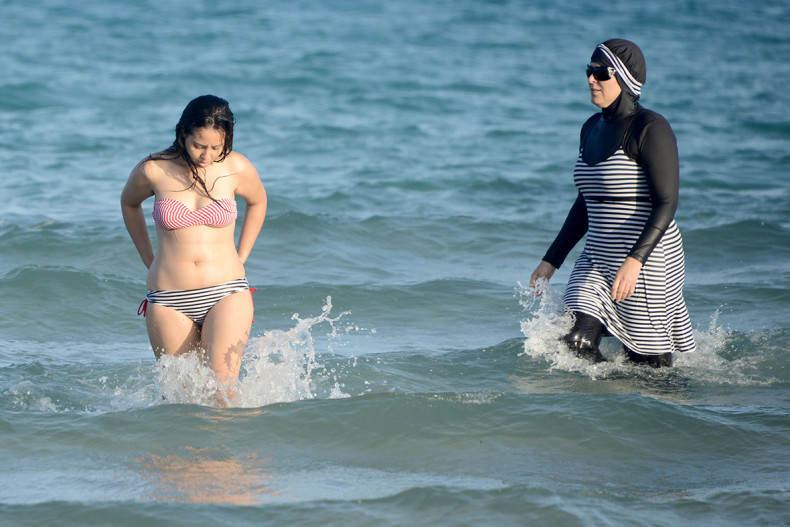 The survey, which did not directly ask the public if they were in favour of the ban, was carried out on a representative sample of 1,001 French people between 22 and 24 August 2016.
Ipsos pollsters' analyst Jérôme Fourquet said that these figures mirrored a survey conducted in April last year, in which 63% of people surveyed said they were opposed to the wearing of the headscarf or the veil.
The #BurkiniGate hashtag started trending after photographs emerged on 23 August showing French policemen armed with batons and pepper spray confronting a veiled middle-aged woman on a beach in Nice and ordering her to strip off as part of a controversial ban on the burkini.
The images caused an uproar in the country, with commentators from all religious backgrounds denouncing the police action as a "violation of human rights".