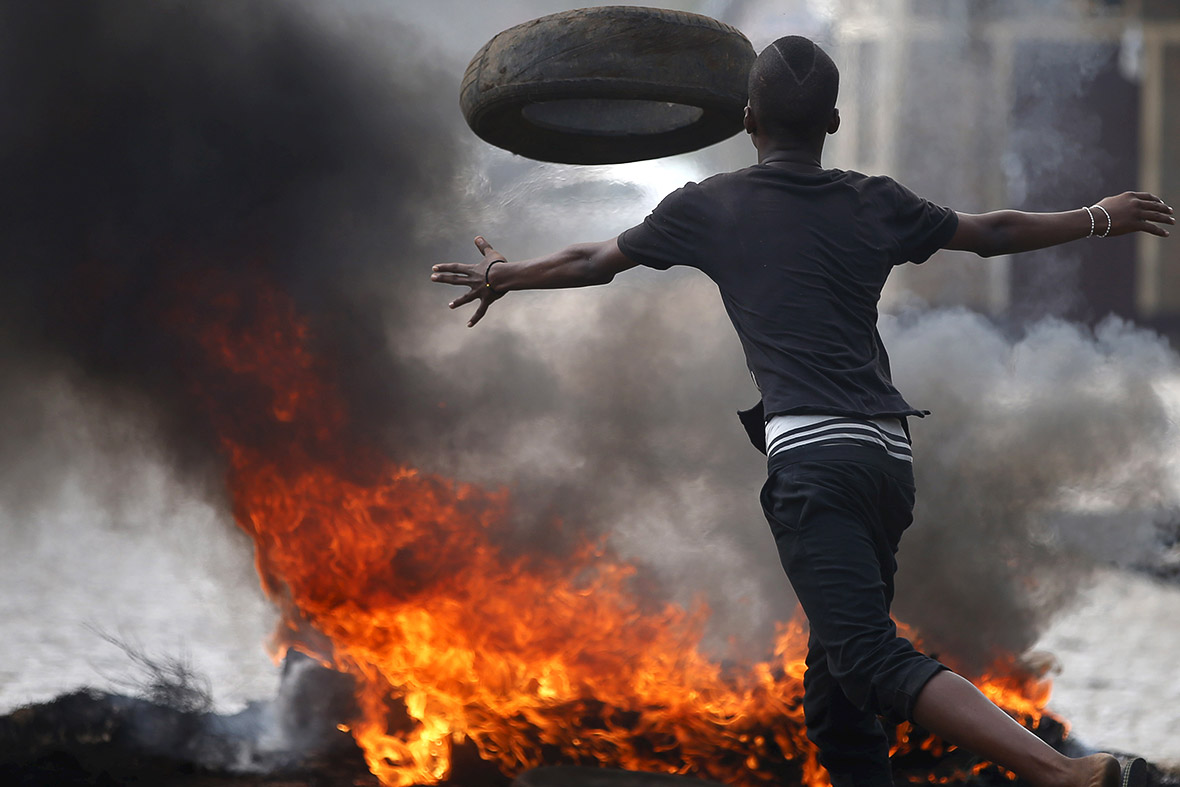 Civilians and army deserters may be planning an armed struggle to topple Burundi's leadership after 50 days of street protests that have swept across the country, both government and opposition members have claimed.
It is estimated that 77 have died and around 150,000 civilians have sought refuge in neighbouring countries since the start of the violence on 26 April, when Burundi's ruling National Council for the Defense of Democracy (CNDD-FDD) nominated President Pierre Nkurunziza to stand for re-election.
Opposition leaders want the president to step down or withdraw his third-term bid, claiming it violates the country's constitution and the Arusha Accords, a peace deal that ended ethnic civil war and established the foundation for Burundi's post-conflict recovery in 2005.
But Nkurunziza's supporters argue the president's first term should be discounted as he was chosen by the parliament and not by the people in an election, as is specified in the agreement.
'We want arms'
According to a source close to the opposition, civilians are now seeking "to get weapons so that they can face police with similar fire power".
"Those who started the peaceful struggle are getting tired and starting to think about armed struggle, saying they've been fighting with the police with stones for the past 50 days," the source told IBTimes UK on 18 June.
"Those people say: 'We want people to give us weapons so we can fight against the police, which is killing us'; and if they fall onto a store of AK47s, they will grab them."
The source confirmed army officers who defected after a failed military coup on 13 May and found refuge either in other provinces in Burundi or in bordering countries as well as civilians could be looking to "protect themselves and resist."
Burundi's former minister of defence Cyrille Ndayirukiye being arrested
Jean Pierre Aime Harerimana/Reuters
The source added: "All these officers, who fled with their weapons and are in the forest organising themselves, will probably come back. People won't sit down and wait to be killed every day. These are protesters in Bujumbura asking to be given weapons. This is very worrying."
Attack before the elections
Cara Jones, a university professor in political science at Mary Baldwin College and expert on Burundi, warned that a rise in daily skirmishes could announce the beginning of a more violent period.
"What we do know is that given the last electoral cycle, the grenades increased as the date came closer. Numerous reports of grenade attacks every day, as well as counter-mobilisation by opposition linked groups will lead to more violence. It will get worse before it gets better," Jones told IBTimes UK from Kigali, Rwanda.
The next few weeks will be crucial in determining how a potential armed struggle could pan out, Jones said, and multiple sources have warned the conflict could start before the elections.
While legislative and municipal elections will be held on 26 June, the embattled presidential elections are now planned for 15 July.
"They won't let Nkurunziza continue his journey with these fake elections. They'll probably do it before 26 June," the source close to the opposition added.
IBTimes UK could not confirm that civilians had managed to get their hands on weapons, but the source believes the arms could come from the Democratic Republic of Congo (DRC).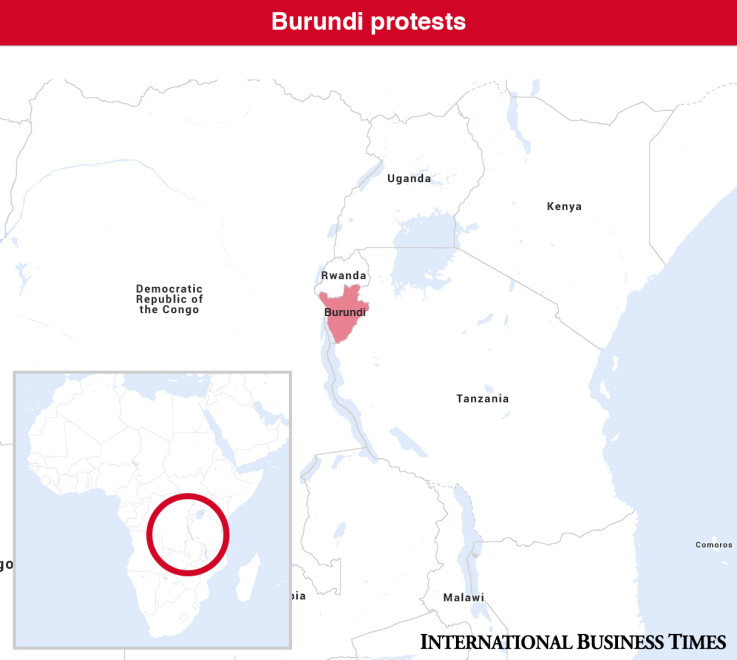 Burundi shares a border with Tanzania, DRC and Rwanda, where 800,000 people were massacred in 1994
IBTimes UK
"They can't get weapons in Rwanda because it is a very controlled state. In DRC, they can buy weapons from different militias, and civilians."
Opposition denies involvement
The opposition claims a power struggle could come from military personnel who fled with arms as well as a large part of the population "that is dissatisfied and reduced to silence by the power of the arms".
A largely divided political class within the opposition could also be seen as a "warning sign that a war can start at any time", the spokesman for the Arusha Movement, a coalition of opposition and civil society groups behind the protests, told IBTimes UK.
"We can't deny that within the uniformed armed units, there are those who could end up using these arms. An implosion can happen at any time, and a war is a reality. May God spare us," Jeremie Minani said over the phone.
"When you choose to close the door to dialogue, to peace and that you opt for repression, you should absolutely expect a war – but it won't come from our movement. The Arusha Movement will remain the most peaceful possible because violence begets violence, and doesn't resolve our political problems," he added.
"That is why we are making the necessary diplomatic efforts that can help resolve the conflict without a civil war that could take us back 23 years," Minani added, referring to a political dialogue that was this week opened by leaders of the East African Community in Bujumbura.
Government ready to fight back
The presidency, meanwhile, told IBTimes UK it was also aware of rumours that civilians could be ready to pick up arms.
"We have heard that a number of people within the civil society, who first called people to protest, in collaboration with certain violent politicians, could be ready to mount an attack on Burundi that could happen before the presidential elections," presidential adviser Willy Nyamitwe said over the phone from Bujumbura.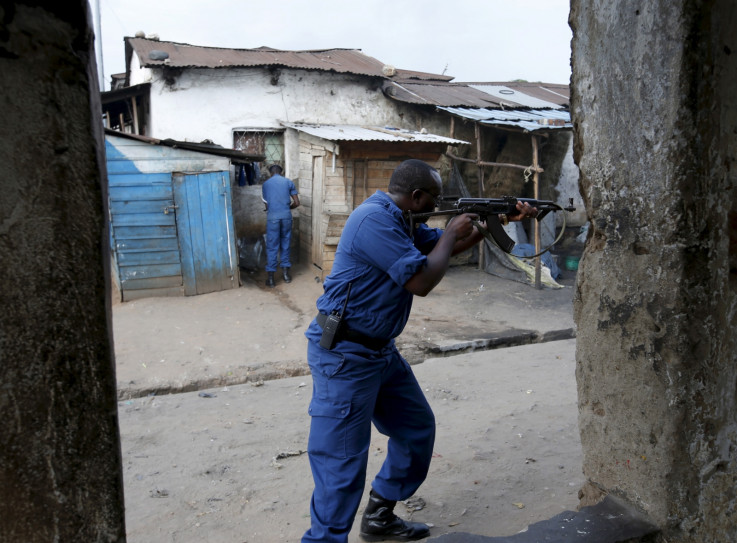 A policeman fires his AK-47 rifle during a protest in Burundi's capital, Bujumbura
Reuters
"We hear these people could be ready to go to great lengths to wage an armed struggle against the country," he added.
According to Nyamitwe, the government of Burundi "is ready to defend the nation, and those people are setting themselves up for failure".
In his view, the "putschists" behind the failed coup who have gone into hiding in and around Burundi could launch another attempt to seize power.
"We know some politicians in exile are getting a militia together to attack the country, but the Burundian people are serene and are awaiting for them. They will not manage to sabotage the ongoing electoral process," Nyamitwe added.
But for Agathon Rwasa, an opposition presidential candidate, Burundians are tired of decades of war and will refuse to take up arms.
"What I am afraid about, however, is that the government is trying to create this rhetoric to justify actions committed by the CNDD-FDD's Imbonerakure [the youth wing of Burundi's CNDD-FDD]," he told IBTimes UK over the phone from the capital.