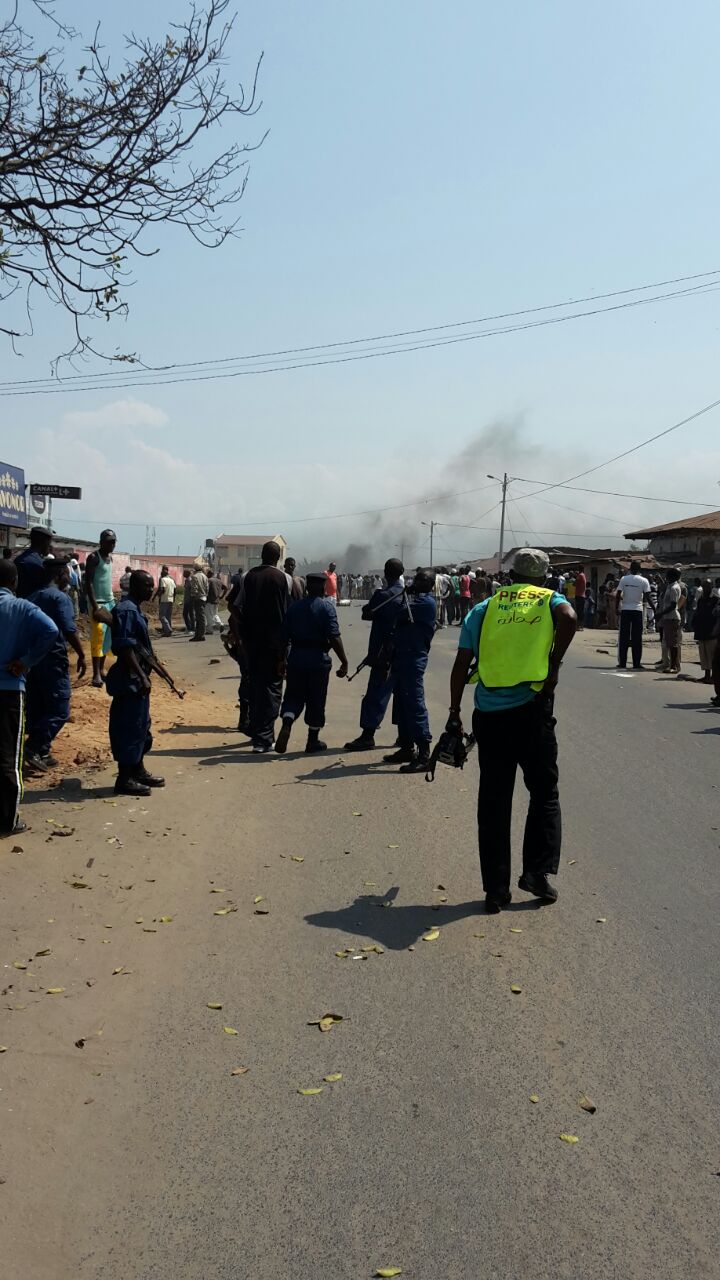 Smoke rises from the district of Buyenzi in Burundi's capital Bujumbura after protesters set tyres on fire following the death of Issa Mwamba Shaban on Wednesday, 10 June 2015
IBTimes UK/ Elsa Buchanan
Issa's passion was football. After work, the 25-year-old would play with his local team l'Etoile du Nil (The Star of the Nile) on a pitch in front of his house in Buyenzi, the Muslim neighbourhood of Burundi's capital, Bujumbura.
That's also where he was shot dead by a policeman on Wednesday (10 June), sparking fierce demonstrations in a town rocked by over a month of street violence, which has left an estimated 50 people dead and over 500 injured since 26 April, when Burundi's ruling National Council for the Defense of Democracy (CNDD-FDD) party nominated President Pierre Nkurunziza to stand for re-election.
In a statement, the police said it believed Issa Mwamba Shaban had committed theft, but his family claims the "innocent" young man was murdered by an officer in broad daylight.
Habib, 38, told IBTimes UK how before midday on Wednesday, a young Imbonerakure - the youth wing of Burundi's CNDD-FDD - came knocking on his nephew's door.
"'Where's Issa?' the Imbonerakure asked us. When we told him my nephew Issa was in his room, the young man said he was looking for him."
The family trusted the young Imbonerakure, locally known as "Lodi", because the uncle says, he also lived in the neighbourhood.
"So we woke Issa up, and the Imbonerakure said he wanted to speak to him in the street, for something to do with business. As soon as Issa walked out the door, he saw two policemen who were waiting for him outside the entrance to our house. When he saw them – they had handcuffs, Kalashnikovs and a strange look on their face - he started running and tried to climb over the wall behind our house," Habib said.
"Issa wanted to run away but they followed him. They shot him with real bullets in the back. Issa fell to the floor. The three men (the Imbonerakure and the two policemen) fled on foot."
The family immediately took Issa, the eldest of 5 siblings - three boys and two girls - to the Prince Regent Charles Hospital, where he later succumbed to his injuries.
When his entourage brought Issa's body back from the hospital, a source told IBTimes UK how the district's youth tried to carry the coffin to the 'commune' - the office of the local mayor- "for him to face up to [his] own responsibilities". Police met the crowd with tear gas canisters and live bullets.
That day, another two civilians were killed in Buyenzi, in what witnesses claim was a police crackdown on dissidents.
Ndayishimiye Mwajuma, a mother of two and an active militant for the Union pour la paix et le développement (Union for Peace and Development, UPD), an opposition party, was shot dead.
A policeman shouts as he prepares to throw a tear gas canister during a protest against Burundi President Pierre Nkurunziza and his bid for a third term in Bujumbura, Burundi on 2 June 2015
Reuters/ Goran Tomasevic
Sources in Buyenzi told IBTimes UK the young woman was known for having tried to organise protests in the area, which had so far remained relatively peaceful.
'Killing has become a daily duty'
But Issa was not a demonstrator, his uncle claims, adding that the young man had just recovered from a bout of malaria and had very little strength.
Described as calm and quiet, Issa had just finished his business management studies, but because jobs were few, his uncle says, the graduate ended up working as a welder outside his house.
"If you're not from the presidential entourage, it's difficult for you to get a job here," Habib explained.
"I still don't understand why they killed him. Some people say Issa and the policeman may have quarrelled at the local bar, but I don't know if that is the real reason. What I know is that Issa never participated in the protests."
In Habib's eyes, the violent death of his nephew is evocative of the situation of his country, in which he claims "anarchy has taken over".
"The situation has got worse since the start of the protests. It's the law of the jungle here, impunity prevails. The culprits are an organised group, a true killing machine and killing has become a daily duty."
Pointing to what he describes as a violent crackdown by the authorities, Habib is calling on the international community to help bring peace back to Burundi.
"If I had to say anything to the international community I would ask it to come and save us because our country is a total anarchy. Are they waiting for all of us to die to come and help us? They need to come quick because more and more people are dying. How far will this go before it stops? They need to stop this haemorrhage," Habib said.
Unable to hold back his tears, Issa's uncle described feeling "abandoned" by the international community.
"We just want a fair justice for all, and for those who have committed grave crimes to be punished severely. There are enough witnesses to prove what happened to Issa. His death happened in broad daylight and everyone was there to prove it."