At least 15 Burundian refugees have died in a Tanzanian camp close to the border with Burundi as thousands are fleeing the country due to political unrest.
It is estimated that over 107,000 people sought shelter in neighbouring countries such as Tanzania and Rwanda after Burundi descended into violence, following President Pierre Nkurunziza's announcement that he will seek a third term in the June election.
Protesters accused him of violating the constitution and the Arusha Peace Agreement, which says the president can only stay in power for two terms. Nkurunziza's supporters, however, argue the president's first term should not be counted as he was chosen by the parliament and not by the people in an election as is specified in the agreement.
Moving 1,800 Burundian refugees a day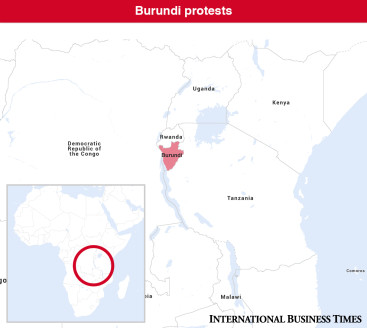 UN refugee agency and aid organisation Oxfam, who have been forced to take emergency measures to stem an outbreak of severe watery diarrhoea and cholera in the refugee camps, told IBTimes UK they are struggling to meet the needs of new arrivals because of the swelling numbers.
Many Burundian refugees have walked three days to arrive at Kigunga beach - the first point of entry from Burundi near the Tanzanian border - a village that now hosts between 35,000 and 40,000 people, according to UNHCR's Tanzanian spokesperson.
To move that number of people "is going to take a long time", Aimee Brown, Oxfam's regional communications advisor, told IBTimes UK from Kigunga refugee camp. "The challenge is that some have waited up to three weeks on Kigunga to be moved. They have been on the beach for such a long time. They have run out of the food they had brought with them.
"People are hungry, tired, feeling sick. They are sleeping as rough as you can get. They are really in urgent need of food, water, medical treatment and shelter."
To ensure young children do not go hungry, the World Food Programme (WFP) is helping provide families with babies and infants with food rations, including ready-to-eat snacks, which are distributed in both Kagunga village and Nyarugusu camp.
"People are hungry, tired, feeling sick. They are sleeping as rough as you can get. They are in really in urgent need of food, water, medical treatment and shelter."
- Aimee Brown, Oxfam
Up until last week, some 10,000 refugees were on the Burundi side of the border waiting to come in, but following the coup d'etat, the borders were closed and the UNHCR is struggling to quantify how many refugees are waiting to enter Tanzania.
"Right now we cannot verify the numbers that are currently on the other side," Stephen Mhando, UNHCR's spokesperson said from Tanzania's capital Dar Es Salaam.
A decrease in the number of refugees in Kigunga, however, has been received as an improvement, as Mhando describes how the situation has changed from "dire" to "better" as aid agencies are moving between 1,800 and 2,000 people a day aboard a boat, the MV Liemba, to the Lake Tanganyika Stadium in the township of Kigoma, where refugees receive a hot meal and undergo basic health checks on arrival.
UNHCR says it has also "explored possibilities of them trekking through a hilly path to get to a place from where the International Organisation for Migration is providing transport" to Kigoma.
Boats disinfected to stem cholera outbreak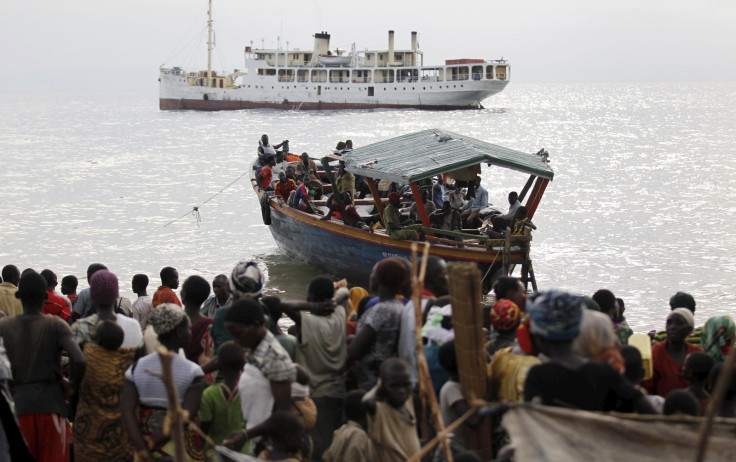 It is during those checks that refugees have been diagnosed with acute watery diarrhoea and some cases of cholera. Because cholera is incredibly contagious, sick people are then separated in order to give them treatment.
"Most refugees I speak to say they or members of their families have upset stomachs, it is not just anecdotal," Brown said over the phone.
Out of 77 patients tested so far, 13 samples came back positive for cholera, Mhando explained, adding that according to the Tanzanian Ministry of Health and WHO guidelines, every case of diarrhoea is treated as a cholera case.
"The main priority for them is getting doctors on the ground in Kagunga," Mhando explained. A special flight taking medical supplies to Kigoma has also been chartered on Tuesday 19 May.
Between Kagunga beach and the Kigoma makeshift reception centre, some 300 people are being treated for watery diarrhoea. To stem a cholera outbreak, UNHCR has sterilised the MV Liemba.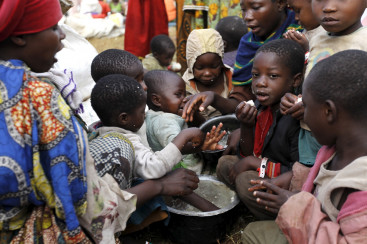 "When we load and unload people, we make sure the boats are sterilised because before this outbreak everyone was grouped together. Right now, the cases of severe watery diarrhoea are being isolated," Mhando said.
From there, the refugees are transported to the to the Nyarugusu refugee camp, which has temporary houses, schools and churches that currently welcome 24, 426 people. Most cholera cases are transported to cholera treatment facilities set up in Kagunga and in Nyarugusu camp.
"There, we are struggling to meet the needs of the new arrivals because of the huge numbers," said Brown, pointing to the urgent need of access to clean water and latrines.
"Some had been forced to drink the lake water", Brown said, highlighting Oxfam's renewed efforts to increase the access to clean water and the construction of new latrines.
After getting registered and entering the camp, families receive two week's worth of dry food rations of maize, beans, oil, and soap.