A child was injured after a grenade was thrown under a car during an apparent attack on a Kenyan bank in Burundi's capital Bujumbura on 29 May.
The attack, which targeted a vehicle parked near the headquarters of the KCBank in Bujumbura's town centre, near the country's Central Bank, is a stark reminder of how fragile Burundi's economy has become after a month of violent protests.
"The power generator was burned in the fire following the explosion, and this will affect even more the economy," Teddy Mazina, a local journalist, told IBTimes UK from Bujumbura.
More than 30 people have been killed and 500 wounded since 26 April, when Burundi's ruling party National Council for the Defense of Democracy (CNDD-FDD) nominated President Pierre Nkurunziza to stand for re-election, triggering daily and often violent protests.
Opposition leaders want Nkurunziza to withdraw his third-term bid in the upcoming 26 June elections, claiming it violates the country's constitution and the Arusha Accords, a peace deal that ended an ethnic civil war in 2005.
Nkurunziza's supporters, however, argue that the president's first term should be discounted as he was chosen by the parliament and not by the people in an election as is specified in the agreement.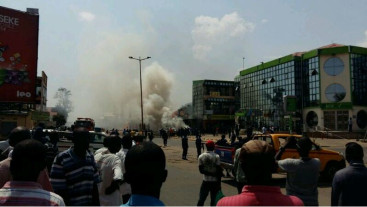 An economy on its knees
Since the start of the protests, analysts say the country has slowly come to a halt, an "economic breakdown".
"The economic situation, in general, has halted, because Bujumbura is the lifeblood of the economy. Even if the President says 99% of the country is at peace, without peace in Bujumbura, the country cannot function," Mazina said over the phone.
As the main highways leading to Bujumbura have remained closed because of the protests - demonstrators would typically gather on those avenues - products transported by truck from the rest of the country can no longer enter the capital, and people from the capital can no longer travel to the more rural parts of Burundi.
For instance, one of the country's main roads, the RN7, which links Bujumbura to the east, has been completely closed for over a week. As the majority of local products are produced outside the capital, sources in Bujumbura have spoken of an increasing difficulty to obtain certain items.
In Bujumbura, markets have been closed so people go to small shops if and when they are open while banks only stay open from 9am to 2pm for "security reasons".
"Food is becoming difficult to obtain. If people hadn't stocked up, it's difficult for them to eat what they want," a man who lives in the capital told IBTimes UK.
"We haven't yet heard of people going hungry but people who live in the districts (where most of the violence has happened) live one day at a time. Now that they cannot trade or work, they need to find new alternative sources of supply."
In Muyinga, a city in northern Burundi, hotel owners have also been complaining about a dramatic reduction in the number of clients. Before the violence, 98% of the rooms would have been booked - that number has now fallen to around 20% they confirmed.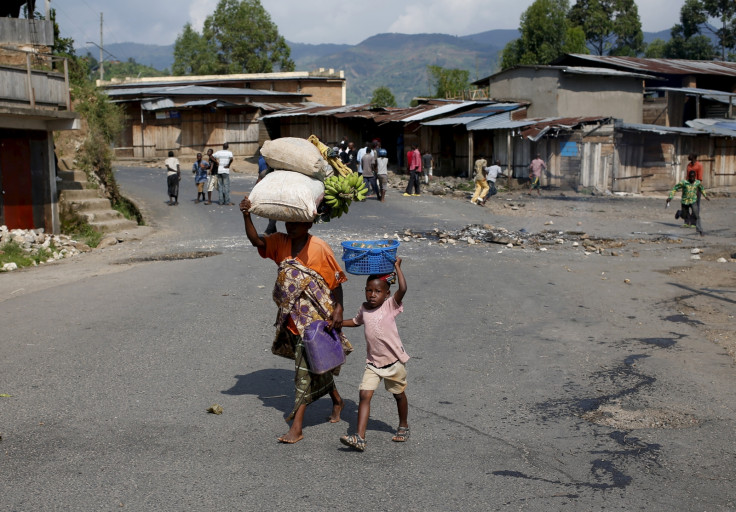 Depreciating currency
"People who had the means to send their children abroad - the upper classes - and are the ones who keep the economy going, have already sent their kids in Rwanda or Kenya. All these people leave with a lot of currency," Mazina said.
Many regional and international banks have also announced that holders of bank accounts in Burundian Francs have been forbidden from withdrawing the currency abroad because banks are short of Burundian Francs.
As a result, the dollar has jumped from BIF1,600 to BIF2,200 over a month, and analysts expect this trend to continue.
"It's possible that this rise continues every day because it's been over a month that there has been very little economic activity," Frederic Banvuginyunvira, vice-president of the main opposition party, the Front for Democracy in Burundi (known by its French acronym Frodebu), told IBTimes UK.
Frozen aid
According to Mazina, the government "had not anticipated this", and opposition figures claim that one of the stains on Nkurunziza's mandate has been one of economic mismanagement.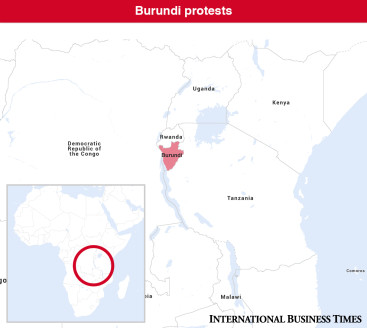 "There has been a lot of corruption, and economically speaking, the country is on its knees," an opposition leader said.
Meanwhile, 60% of the national budget, financed by international aid from Belgium and the European Union budgets, has now been scrapped after European nations suspended some aid on 11 May, escalating international pressure on the donor-reliant country.
On 26 May, France suspended its aid to Burundi's police and defence services, which included helping the Burundian army with training for international peacekeeping missions and brought essential cash for the poverty-stricken country's armed forces.
"Burundi has also lost the capital inflows of indirect aid on security cooperation projects (including police training). Anything that has not been scrapped by foreign countries will be frozen inside Burundi because expatriates are not going to stay if we start having grenades exploding in town," Mazina said.
Less than a week before the parliamentary elections, a lot of creativity is required to boost the local economic activity, ravaged by the electoral tensions.
"Without political stability, one cannot stabilise the economy," Mazina said, arguing that the biggest danger would be for economic insecurity to lead to violence. "That could be uncontrollable."
Opposition leader Banvuginyunvira shares the same view: "There is a huge risk that the country could fall into civil war, simple as that."