Opposition leaders in Burundi are setting out plans for a potential national transition government, which they claim should last for between 36 months and five years, opposition leader Alexis Sinduhije has told IBTimes UK.
Burundi's government confirmed last week it will be holding hotly contested presidential elections on Tuesday 21 July, despite calls from the country's opposition and the international community to postpone the polls.
The move follows months of violence, which started on 26 April, when the ruling National Council for the Defense of Democracy (CNDD-FDD) party nominated President Pierre Nkurunziza to stand for re-election – something the opposition claims violates the country's constitution and the Arusha Accords peace deal.
A long transition government
Sinduhije is the exiled founder of the Movement for Security and Democracy (Mouvement pour la Solidarité et le Développement, MSD), and in a new attempt to topple Nkurunziza he intends to form a national transitional council alongside exiles of the CNDD-FDD, opposition leaders, representatives of the civil society, journalists, and members of the army.
While commentators had been expecting the announcement, questions remain about what form such a government could take.
"I would like a really long transition, anywhere between 36 months and five years," Sinduhije told IBTimes UK, from secret location. "This will enable us to heal the wounds, to rebuild the state into a normal one."
The temporary government will have the mission to organise the elections, organise security, open the debate about an improvement of the country's constitution, and set out an independent judicial reforms, Sinduhije said.
'Suicide or death'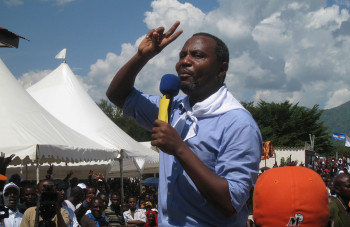 To put such a government in place, Sinduhije says he is ready wage war against the government, after he claims he spent the last two years "sending signals that I was ready to negotiate everything, even [Nkurunziza's] third term in exchange for free, transparent and just elections".
"I have always fought for peace and I have not changed my mind. But today it seems to me that after trying to dialogue with Nkurunziza to find a peaceful solution, he is imposing us a choice: death or suicide," the former journalist-turned-politician explained.
He added: "We choose death over suicide, so even if I always refused war, I am obliged to support it because it is a just war that will pull Burundi out of this hostage situation.
"The only way to avoid an imminent bloodbath would be for the president to step aside, for the CNDD-FDD to put forward a new candidate who would then participate in the transition government."
Neutral technocrats to lead Burundi
In the eyes of the MSD, this transition government should be based on a written act, and be headed by a "neutral group of people".
"There will be a transitional act, that will state that the person heading the government will not go left or right. He will be chosen by all the forces erected against the third mandate," Sinduhije explained.
"We will leave the management of the state to neutral technocrats, who will be accountable to all political parties and forces involved and who will respect the act of transition and its calendar. I want the parties to only have a very minimal influence to avoid spoiling the government."
In the transition parliament, every party should be free to function and look to position itself for future elections, but not to enter the management of the government, said Sinduhije.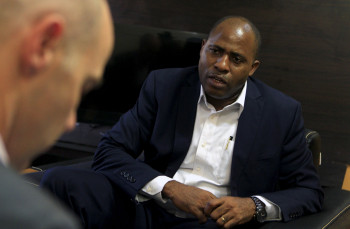 Burundian army involvement
The army played a crucial role in the uprising, with Major General Godefroid Niyombare and General Leonard Ngendakumana, taking part in a failed coup to topple Nkurunziza on 13 May.
Following the coup, it is estimated that between 300 and 500 soldiers deserted their ranks, and it is now believed that they could be involved in a rebel movement that attacked government positions in the country's northern province of Kayanza on 10 July.
For Sinduhije however, a reformed army should play a "traditional role" in the transition government, as long as it remains neutral, and the rebel generals should accept not to engage in any political matters.
"My party's position is that we want the transition to be led by a neutral personality. [General] Nyombare is someone neutral: he is military, even if it's difficult to speak about neutrality in Burundi (Nyombare is a former CNDD-FDD who was very politicised), but his military status gives him neutrality," Sinduhije explained, adding that the general's role would depend on his political stance.
"If he has future political ambition, then I could advise him to not look to head the transition government. However, I would support him would he decide to head the transition but not from a political point of view."
Burundi up close: Check out our Flipboard magazine