Three alleged leaders of a failed coup in Burundi who were arrested by government loyalists hours after President Pierre Nkurunziza returned to the capital Bujumbura last week have been transferred to a prison in the country's Gitega region, IBTimes UK has learned.
Former defence minister Gen Cyrille Ndayirukiye and police commissioners Zenon Ndabaneze and Hermenegilde Nimenya were brought to a prison in Bujumbura after their arrest on 15 May following a failed coup d'etat on 13 May.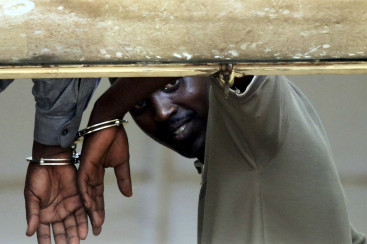 A source close to the matter told IBTimes UK the three men have been transferred to a prison outside the capital, two days after they had claimed they "would only speak in the presence of the minister of defense"– Pontien Gaciyubwenge, who was sacked on Monday 17 May by Nkurunziza.
He was replaced by Emmanuel Ntahonvukiye, a lawyer who becomes the first civilian defence chief in 50 years.
A source close to high-ranking military officials also told IBTimes UK that Godefroid Niyombare, the main coup leader, was still on the run and was now in hiding "outside of Burundi".
The three prisoners are expected to be trialled in an army court-martial.
Protester: 'Our goal remains the same'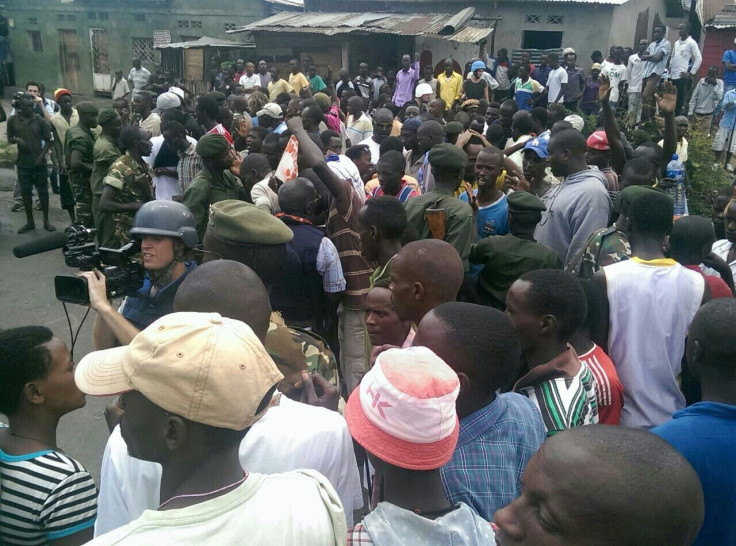 Burundi's capital Bujumbura woke up this morning (Tuesday 19 May) to another day of tension as protesters gathered to organise demonstrations against Nkurunziza's bid for five more years in power, which they say violates the country's constitution and the Arusha Accords, a peace deal that ended an ethnic civil war in 2005.
Hundreds of protesters demanding Nkurunziza's candidacy withdrawal started gathering in the early hours, in defiance of government threats of a crackdown on the marches.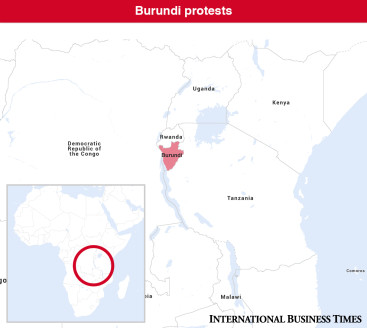 On Monday – less than a week after surviving an attempted power grab – Nkurunziza began a purge of his cabinet and reiterated his warning that protesters will be treated as accomplices of the rebel generals who staged the coup. The foreign ministry reiterated this on its website.
A protester told IBTimes UK: "We're expecting a stronger mobilisation today. Our goal stays the same today: as long as the president maintains he wants his third term, we won't agree."
The demonstrator says he is expecting more people to descend onto the streets, explaining that the protests have spread to most districts and "there is less fear of reprisals today".
The young man explained that "yesterday, the people still hadn't fully understood what had happened after the coup and were scared".
Protesters had been met by heavily armed police and army officers on Monday and warned: "You march, we shoot."
Widening tensions in the army
On the ground, however, other sources spoke about a fear of widening divisions within the army, which has been in disunity since the protests began on 26 April. While the 3rd and 11th Battalions are reported to have been in support of the demonstrators, the remainder has backed Nkurunziza.
On Monday, when the protesters resumed for the first time since the coup failed, witnesses reported an army officer shooting above protesters before being scolded by other officers.
A dramatic video published exclusively by IBTimes UK also showed protesters being saved by the arrival of foreign journalists after an army officer threatened to shoot protesters in the capital Bujumbura.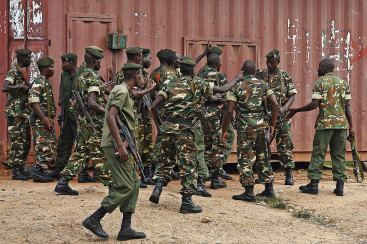 To make matters worse, the source close to the military officials said, Nkurunziza's Friday speech in which he thanked troops loyal to his administration for quelling the coup attempt also showed that he was "ready to take measures" against officers backing protesters.
"The 3rd and 11th Battalions know they are targeted and that he has threatened to close their military bases. That will fuel more problems," the source said.
Crackdown on foreign reporters
The government's gagging of the press, meanwhile, has continued.
Sonia Rolley of RFI described on Tuesday how foreign journalists, who had been spared from a crackdown on media presence, were now blocked from accessing certain districts where protests were being held.
"Many journalists are heading back to their hotels after [they were] blocked on the 1st Avenue [in the Musaga district]," she tweeted.
Rolley went on to explain how journalists, who had presented the correct documentation, had been stopped and told it was "for their safety".
"We have paid $300 for nothing," journalists who were heading back to hotels told her in Musaga.
UPDATE:
(14:26 GMT 19 May) The European Union's delegation to Burundi has published a letter that "expresses (its) deep concerns, following a gunfire attack on the Ambassador's office , which has just taken place".
In this letter, dated 19 May, the EU's delegation to Burundi "reminds the Burundian government of its international obligations by applying the Vienna Convention" and "calls for an immediate increase in the level of protection of its offices".
Gunshots were fired at the embassy at around 13:30 GMT.
Meanwhile, the French Embassy has confirmed the arrival of a enforcement mission, destined to protect its offices "considering the situation".
A military cargo aircraft, which was spotted at the airport, carried the 15 gendarmes - armed officers - and their equipment to the French embassy, French sources said.
(12:37 GMT 19 May): Military officers have been accused of using live bullets to disperse protesters, according to a student who has been demonstrating in Bujumbura on Tuesday.
The young man described how, at around 9 am (local time), he witnessed a man dressed in army khakis starting to shoot "with live bullets" in the the Jabe neighbourhood of Bwiza district when protesters "were starting to gather to demonstrate".
"Today I saw an army officer fire live bullets. When they saw the cameras of the foreign reporters, they fled. They were (probably) scared to be seen by the whole world," the source, who declined to be named, told IBTimes UK from Bwiza.
(11:30 GMT 19 May): Ten young men have been arrested by police officers in Kajaga, one of Bujumbura's more rural districts, IBTimes UK has learned from a number of sources among the protesters.
"They were just demonstrating against the third term," a source said.