Government troops have clashed with opposition gunmen in northern Burundi as tensions boil over near the Rwandan border amid the central African nation's worst political crisis since end of its civil war in 2005.
Army spokesman Colonel Gaspard Baratuza told AFP of shooting and "a situation of insecurity" near Rugazi, 140km (85 miles) north of the Burundian capital Bujumbura.
"An armed group attacked an army position... We heard shooting and the explosions of heavy weapons," a local government source told the French agency.
There are hopes tensions may ease in Burundi with the government's agreement to postpone controversial presidential elections.
The current crisis erupted in Burundi after an announcement by the country's president Pierre Nkurunziza that he would stand for a third term, despite two-term limits set in the country's constitution.
Over 70 people have been killed in the two months of ensuing violence. Over 158,000 refugees have fled to neighbouring countries as the country has destabilised, according to the UN.
The Burundian government has said it will postpone presidential elections until a few days after 15 July, when they were initially scheduled. However, the postponement is not as long as the two week period the East African Community (EAC) need to make progress with mediations.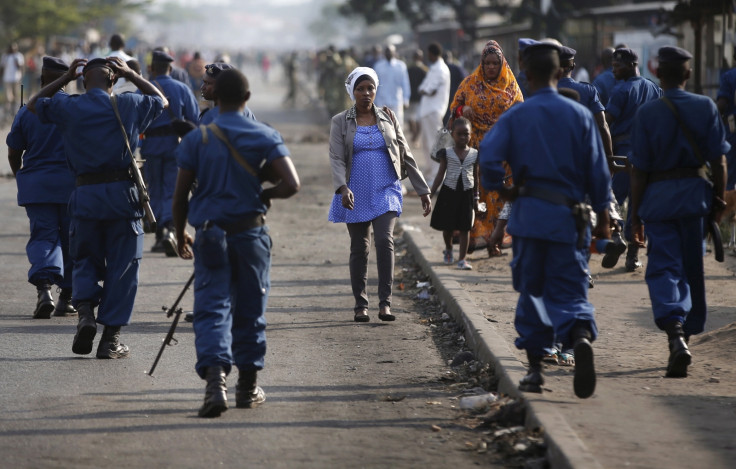 On 9 July senior United Nations officials warned that the situation prevailing in the Central African country was once again at risk of sliding into violence.
"Burundi is on the brink again [and] the grave danger the country faces should not be underestimated, given the increasing polarisation and the apparent choice of Burundian leaders to put personal interest before those of the country," UN Assistant-Secretary-General for Political Affairs Taye-Brook Zerihoun told the UN security council.
"An escalating pattern of politically motivated violence, coupled with this country's history of recurring bloodshed and atrocities, should alert us to the potential for serious crisis," UN High Commissioner for Human Rights Zeid Ra'ad Al Hussein added.
One of the figureheads of Burundi's opposition, General Leonard Ngendakumana, who was part of a failed coup to topple Nkurunziza in 19 May, has said his group was still working to oust the president and accused him of stoking ethnic divisions that were the faultlines of the country's 12-year civil war.
Burundi's ruling party, the CNDD-FDD, won a landslide victory in parliamentary elections held across the country two weeks ago. However, amid a widespread opposition boycott of the polls, the international community has rejected the result stating that the elections took place under duress.