Burundi elections: President Pierre Nkurunziza wins third term amidst claims of vote-rigging and fears of violence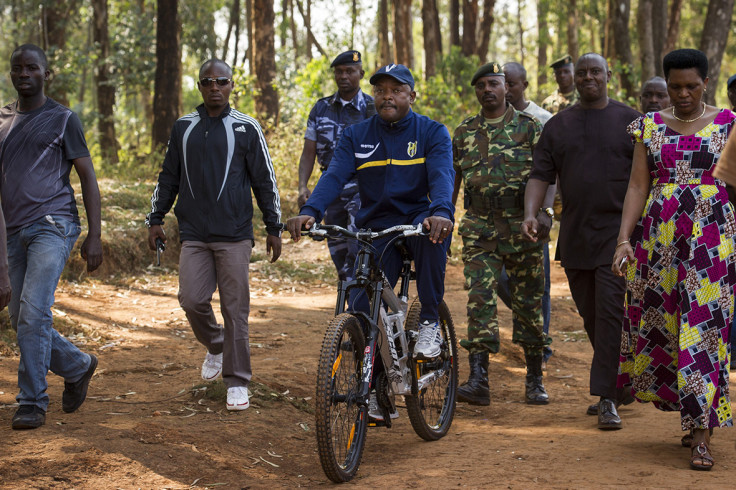 Burundi President Pierre Nkurunziza has won a third term in a controversial election boycotted by major opposition figures and held amidst claims of vote-rigging and street violence.
It was announced at the presidential palace in Bujumbura on Friday (24 July) that Nkurunziza won every district but two in Tuesday's election, winning 69.41% of the vote to his rival Agathon Rwasa's 18.99%
Turnout was as high as 91.99% in the incumbent's home town Ngozi where he won 79% of votes but as low as 37% in other districts.
Thousands of voters are thought to have abstained out of either anger towards the electoral process or allegiance to the opposition forces that boycotted the poll.
All eyes will now be on the streets and whether opposition supporters will come out in protest against Nkurunziza as they have done regularly with fatal consequences in past months.
The election follows months of violence, which started on 26 April, when the ruling National Council for the Defense of Democracy (CNDD-FDD) party nominated President Pierre Nkurunziza to stand for re-election – something the opposition claims violates the country's constitution and the Arusha Accords peace deal.
Opposition leader Alexis Sinduhije told IBTimes UK last week that he intends to topple Nkurunziza by forming a national transitional council alongside exiles of the CNDD-FDD, opposition leaders, representatives of the civil society, journalists, and members of the army.
Sinduhije said he was ready to wage war against the government, after he claims he spent the last two years "sending signals that I was ready to negotiate everything, even [Nkurunziza's] third term in exchange for free, transparent and just elections".
"The only way to avoid an imminent bloodbath would be for the president to step aside, for the CNDD-FDD to put forward a new candidate who would then participate in the transition government."
"I have always fought for peace and I have not changed my mind. But today it seems to me that after trying to [engage in a] dialogue with Nkurunziza to find a peaceful solution, he is imposing us a choice: death or suicide," the former journalist-turned-politician explained.
More than 144,000 people have fled the country since CNDD-FDD announced that Nkurunziza would be running, and between 70 and 100 people have been killed in protests since April. The result – as well as claims of vote-rigging – will raise more fears of violence in the restive country.
Earlier Friday, IBTimes UK was shown what one activist described as "proof of electoral fraud" with cards filled out by voters that did not exist and fake fingerprints on others.
"Some were found blank, without the name, or date of birth of the voter; just with the ink and the official stamp," said Association for the Protection of Human Rights and Incarcerated Persons (APRODH) president Pierre Claver Mbonimpa in the country's capital, Bujumbura.
The revelations come just days after the country's electoral commission announced it had found 61,500 cases of potential fraud.
"Nkurunziza will camp on his position, and for us, his victory means the violation of the Arusha Accords, the violation of our constitution and the violation of human rights," Mbonimpa told IBTimes UK in an exclusive interview.
"Therefore, we will not recognise Nkurunziza as president, even if he starts using force."
© Copyright IBTimes 2023. All rights reserved.