Burundi: Growing fears over rights activist Marie-Claudette Kwizera's disappearance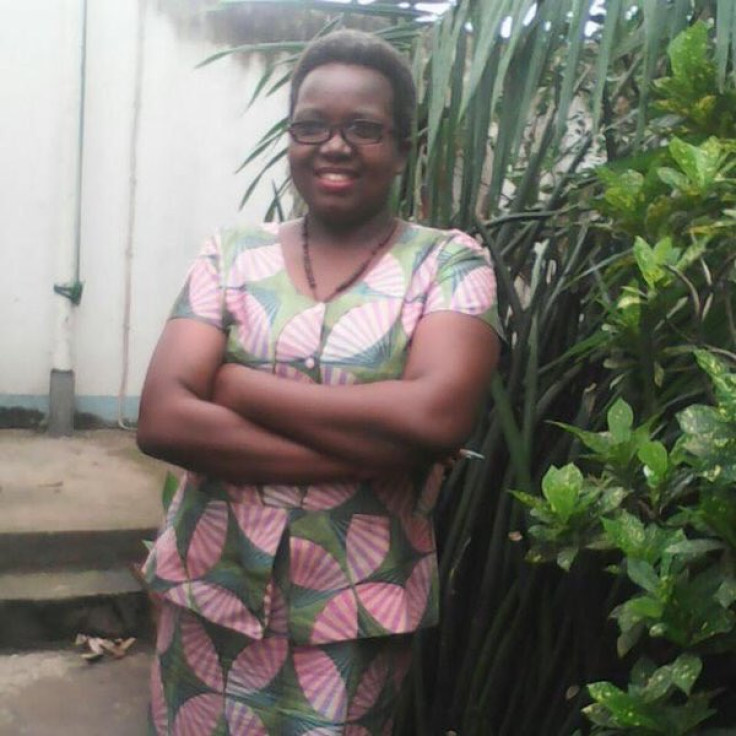 There are increasing concerns for the welfare of Ligue Iteka's treasurer, Marie-Claudette Kwizera, who was reportedly forcefully arrested on 10 December 2015 in the capital Bujumbura and driven off in a vehicle of Burundi's National Intelligence Service (Service National des Renseignements - SNR).
Between 800 and 900 people are reported to have been killed since April 2015 since President Pierre Nkurunziza announced a controversial decision to run for a third term, which he won in contested elections in July. Scores of bodies are reportedly still being found in the streets, or in ditches, and dozens of civilians have simply disappeared, in tit-for-tat violence pitting pro-Nkurunziza forces and insurgents.
FIDH, an international human rights NGO federating 178 organizations from 120 countries, has launched the online campaign #FreeMarieClaudette and #SaveMarieClaudette to put pressure on Nkurunziza's goverment, and highlight how Kwizera's disappearance is reflective of the regime's deepening crackdown on resistance.
Ligue Iteka, which aims at addressing and investigating human rights abuses, has been forced to close its doors after its President, fearing for his life, fled Burundi, and Nkurunziza's government froze the organisation's bank accounts.
"Is it in this context that Kwizera was arrested? We don't know, but by blocking their bank accounts, the regime has very clearly wanted to prevent Iteka from monitoring human rights violations committed across the territory," Florent Geel, head of FIDH Africa, told IBTimes UK, in an exclusive interview.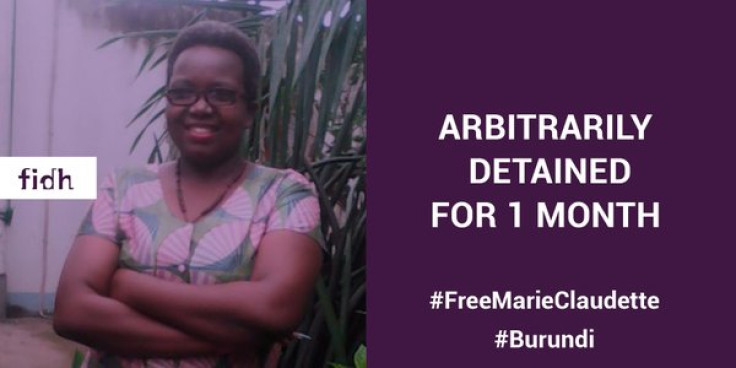 FIDH
Marie-Claudette Kwizera's forced disappearance
Little is known regarding Kwizera's arrest and conditions of detention. On 12 December 2015, Dieudonné Bigirimana, a major in the SNR and close relative, told Kwizera's family the activist was detained in the SNR's headquarters and that she could be released if the family paid up FBU 3,5m (equivalent to £1575) in handling charges. The family paid, but no further information was given regarding Kwizera's whereabouts.
The activist's family filed a complaint, but Bigirimana – known locally as 'Taison' or 'Tyson' – was consequently arrested on 4 January 2016 by members of the SNR. "We don't know why he was arrested. Is it in relation to this case?," Geel said.
On 13 January, another member of Kwizera's family went to the SNR, and demanded security personnel look for his relative in the regime's jails. Geel added: "They didn't find her – apparently." A week later, on 20 January, Kwizera's brother-in-law, Jean-Bosco was arrested, the family confirmed. "Is it in relation to her arrest? What we know is that Jean-Bosco was a witness of the handover of funds. It is possible that was linked." Geel confirmed the UN's High Commissioner for Human Rights has not had access to Kwizera.
"The security forces have not confirmed where she is detained, or even the reasons for her arrest or whatever is alleged against her," Geel said. "We don't know if she has been interrogated, about what or how. Nothing. It's an absolute blackout."
While IBTImes UK has decided not to detail Iteka's current activities in Burundi to protect its members, it can confirm Iteka has continued to carry out its monitoring activities and investigations of violations of human rights – in collaboration with FIDH. And while Kwizera and Jean-Bosco's whereabouts are still unknown, Geel confirmed FIDH is conducting verifications.
Almost a month and a half after Kwizera's forced arrest, Geel said he is "fearing the worst".
© Copyright IBTimes 2023. All rights reserved.